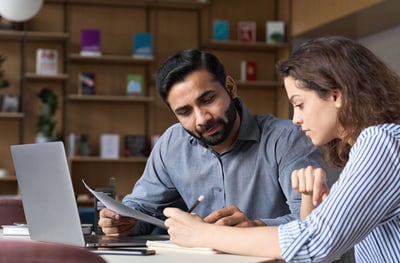 When shopping for communication technology, like two-way radios or security cameras, you have many options for where to purchase. The decision isn't easy and is a long-term investment in the safety of schools, workplaces, and communities.
ChiComm understands that you're often working on a tight budget or timeline. Although buying online may save you money and time, it will cost you more in the long run.
When you choose to work with ChiComm, you have a partner from start to finish. From identifying what technology is the best fit for your needs to servicing your system long-term and everything in between, ChiComm offers more than just the product.
Here are some of the ways working with ChiComm is different:
Expert advice
Radios aren't just radios anymore; they're computers. They need to be programmed to fit your specific needs and, often, must meet federal and state requirements. Our team continually trains on the newest software and hardware with ongoing education, taking advantage of Motorola's training academy.
When you're shopping on your own, you may not know what specifications to look for, what you don't need, and what upgrades may be worth the extra money. ChiComm's goal isn't to sell you the most expensive tools but the most appropriate ones, for now, and for the future of your organization. And our team is experienced in making that happen.
The ChiComm team knows what schools, warehouses, first responders, and more need from their communications equipment. They understand industry standards and keep up-to-date on new innovations that can streamline and optimize.
And what they don't know, they'll find out. Sometimes, this means calling on the IT team to address programming issues or directly contacting manufacturers.
Installation
Our team is committed to more than just making sure you have the suitable radios and communications devices; we make sure they work as expected.
I think different organizations have different needs in this regard. If you're a smaller organization, you may be able to get your questions quickly answered via email or on a call with the ChiComm team. For larger organizations, we walk through the entire programming and installation process with you.
We don't simply leave when the job seems to be done. Whether it's connecting with a colleague on another team, calling manufacturers to troubleshoot, or working on the ground with you, ChiComm not only sells you the product you need; we don't leave until it works.
Long-term support
Eventually, all technology needs to be serviced, upgraded, or replaced. Call us to work with you to develop a solution that works best for you, whether using your warranty to replace parts or having us help you reevaluate your needs in person.
When partnering with ChiComm, you can be sure that our programmers and installers are trained and experienced with your technology. Any upgrades or replacements you purchase from us will be compatible with your existing system. We'll also ensure it aligns with your vision and hopes for your organization's future.
A real relationship
ChiComm values our relationships with customers and communities. Your organization and team are not just anonymous web users adding products to your virtual shopping carts. You're job creators, boosting local economies. You're school leaders, keeping children safe while they learn. You're first responders, protecting our communities.
The expertise we've developed, our highly trained programmers and installers, and our ongoing support are rooted in the relationships we build with our customers. We know the importance of your work, and that clear, reliable communication technology makes that work possible.
With ChiComm, you'll always get a real person who treats you like a real person. It may not seem like much, but we know you'll see and feel the difference.
Want to know more about how we can work together to meet your communications technology needs? Contact us for a consultation and see how we go beyond the product.