Understandably, much of the focus on school safety involves what happens to students when they're on campus, but what about school bus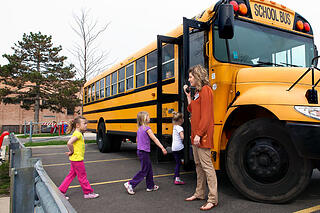 safety? Among the tools for keeping millions of students, coaches, teachers, and drivers safe on buses every day, two-way radios are at the top of the list.
For a variety of reasons, two-way radios are an ideal communications solution for school safety in general, and transportation in particular.
Let's look at ways to enhance school bus safety with two-way radios.
It's Legal to Use Radios While Driving
Two-way radios are approved for use while driving by the U.S. Department of Transportation – unlike cell phones. School bus drivers can safely use radios to keep in contact with each other, dispatchers, and administrators while in motion.
Cell phone use, meanwhile, is not allowed.
Mobile radio accessories such as mic extenders make it possible for transportation staff to go outside of their buses and still keep in touch with dispatch or other personnel, providing even more of a boost to school security.
Applications Unite Radio & Non-Radio Users
When it comes to safety in schools, applications give two-way radios even greater utility and flexibility over cell phones, especially apps such as WAVE PTX by Motorola.
WAVE PTXdelivers secure push-to-talk (PTT) communications between radio and non-radio users. Administrators and staff using the application can connect on radios, smartphones, tablets, computers, and landlines. Users can have private or group conversations over voice or text.
On the Road Again
With so much attention on classroom security and campus communication, school bus safety concerns can sometimes be left behind. Two-way radios provide communications coverage that's comprehensive enough for students and school personnel on campus, off campus, and all points in between.