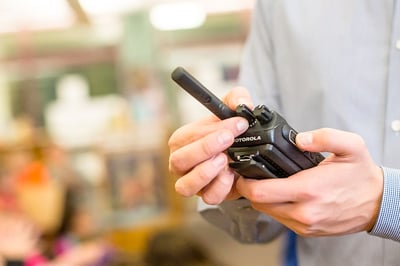 Two-way digital radios provide instant, secure, and high-performing communication that helps increase productivity, improve resolution time, enhance safety, and protect workers. In addition, devices' long life and durability reduce costly repairs and downtime, but they still need servicing and maintenance.

Additionally, new technologies are emerging all the time. They offer exciting new features like interoperability and other upgrades—and are an excellent opportunity for businesses and organizations to ask themselves if their radio system is working the best it can.
Managing a Radio System Is No Cake Walk
A systems administrator wears many hats at the best of times. Still, it can be overwhelming when radio capacity is falling, or "busies" are occurring often during essential operating hours. Troubleshooting the problem without precise data and analysis, let alone planning for future needs, can become a crap shoot.
What a systems administrator could use is Genesis GW3-TRBO. It's an integrated software solution that allows centralized management of all radio system-wide activity. In addition, it sends critical notifications and archives data for forensic reporting. Finally, it provides actionable information to manage the radio system.
Step Back and Look at What You've Got
If you're wondering if your radio system is working the best it can, you probably will benefit from a comprehensive system analysis. Does your system meet your needs today and the needs you anticipate for the future? Are there technologies and products that could serve your business or industry better? Do you have a service contract for when things invariably go wrong? Regular maintenance? Is there a single go-to service provider with the expertise to guide you, who can install and maintain what you may need, and are they available when you need them?
Depth of Experience
One of the best ways to optimize your devices is to have them professionally maintained. However, suppose you haven't done that in a while. In that case, it may be best to have a systems check or analysis to see your liabilities and learn where there may be opportunities to optimize your functionality. System Analysis is what ChiComm does for clients in diverse sectors across the region.
Chicago Communications is one of the few two-way radio service providers with the expertise to transform technology into robust, tailored solutions. We think we may be that go-to for all your communications needs, and we offer a free consultation to get to know your business and your needs and suggest solutions.
We have 20 union technicians and installers with an average tenure of 15 years in the industry. In addition, our dedicated technical staff operates 24 hours a day, 365 days a year, so an experienced and professional service provider is always available when clients need help.
We provide world-class service and support for our products throughout their lifecycle, from planning the initial purchase to on-site support, such as connectivity testing and troubleshooting, to repair services. And we help you understand everything you need to know about two-way radios to use them successfully in your setting.
Maintenance Matters
Whether you have an updated system or an upgraded system with an extended warranty, a reasonable monthly payment covers repairs, meaning there won't be significant out-of-pocket expenses that come as a surprise.
The same holds true for mission-critical communications equipment. Public safety agencies, businesses, and campuses buy this equipment because it is essential to their operations. Rest assured that Chicago Communications offers maintenance plans for almost every piece of communications equipment that keeps departments, teams, and companies thriving.
Whether you're looking for two-way radio communications maintenance for one radio or support an extensive nationwide communication system and network, we can set up a maintenance plan that's just right for you, giving you peace of mind and the service cost management you desire.
Watch our video Chicago Communications: Maintenance Plans for more information on various maintenance plans.
Ask the Experts
Chicago Communications offers a free on-site consultation. We know your industry and are happy to come to your business to discuss your communication needs and functionality. We'll suggest solutions. For example, it may make sense to put your equipment on a maintenance contract, and upgrading to a more robust replacement system may be advisable.