Brad Hessler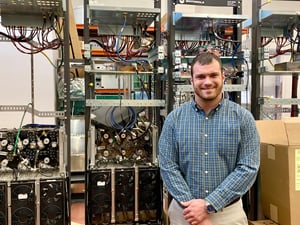 Brad Hessler is a sales account executive who specializes in telecommunication, video surveillance, and wireless network solutions for commercial markets. In his role, he helps businesses identify their communications and security needs and connects them with solutions specific to their operations and business goals.
Brad has been with Chicago Communications for seven years, and he says what he loves about the company are the close relationships everyone has.
"Our employees not only look out for each other," he says. "They always go out of their way to be there for our customers as well."
In addition he says, because of the competitiveness of the industry, Chicago Communication is always looking for new ways to separate ourselves from the others.
"I am here to help in any way possible. Whether that is resolving a problem you are experiencing, looking for suggestions or solutions, or even just answering a question that might arise, please reach out. Improving safety and security for you and your company is our primary goal."
What are three things Brad can't live without? Coffee, cell phone and his family.


Cathy Kulnig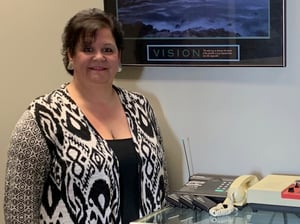 Creativity, project management, and the sense of accomplishment that comes from seeing through a production from start to finish: These things have motivated Account Executive Cathy Kulnig both at Chicago Communications and throughout her extensive background in theatre and performance.
While people might not think selling communications technology and a degree in theatre go together, Cathy's 20-year career with Chicago Communications shows the combination is a perfect fit.
"It's about thinking on your feet," Cathy says. "And it's the ability to do all kinds of different things in front of new audiences of customers. There's always something new to do, and it's gratifying to do them successfully."
Being able to employ these talents is why she loves working for Chicago Communications.
"I like taking things from nothing, and then having people partner with me to create something that's going to work, whether it's a safety or security solution," she says. "That's my specialty. I love helping people."
While theater is in her heart, she values the professional field of ChiComm and the opportunities to play one of her most important roles: A partner in communications solutions.
And the three things she says she wouldn't want to live without? Her family, her religion, and of course, theater.

Jim Byrne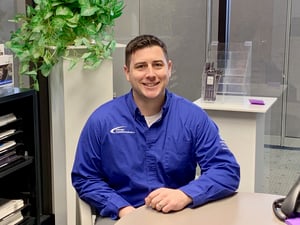 A Sales Account Executive with Chicago Communications, Jim Byrne says that while the company's focus may be technology and equipment, his favorite aspect of working at ChiComm is the human component.
"The people here are friendly and welcoming," he says. "And they care, not just about customers, but about each other. We're a family."
It's a quality that's made his job at Chicago Communications stand out from the other sales positions Jim's held since college, including account manager and outside sales representative. The good people, along with the opportunity to learn about new types of technology, led Jim to the ChiComm team in May 2018. Since starting, he says one of his proudest moments was achieving his first big sale, which he worked on for over a year.
"What was important to me wasn't that we closed the deal," he says. "What mattered is that we spent the time needed to walk the customer through solutions and arrive at one that would drive value for years to come."
This is part of the excellent customer service Jim always emphasizes to customers. He says customer service and satisfaction are key elements of the Chicago Communications experience, and providing that personal relationship and partnership is what Jim takes pride in.
The three things he says he wouldn't want to live without? Friends, family, and sports.

Mike Wierzba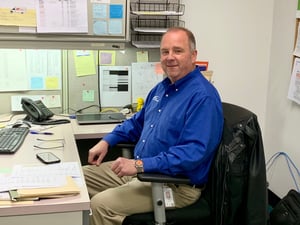 The small-company atmosphere with large-company capabilities are what Account Executive Mike Wierzba loves about Chicago Communications.
Approaching his third year with the company, Mike delivers communications technology solutions to colleges and universities in the Chicagoland and Northwest Indiana market, and to commercial customers in manufacturing, education, transportation, hospitality and health care in South Cook County, Kankakee, Grundy and Lake County.
Mike takes pride in the people, value, and technology of Chicago Communications. And he says his proudest moment was when he first started seeing sales from his relationship building and cultivation efforts in a territory that had been unreached and underdeveloped.
He says he takes pride in the new customers he has brought on board and the role he's played in helping them achieve their goals. He says he truly takes an interest in their needs and is driven to provide the best possible solutions to their problems.
"I really work hard to make sure my customers have what they need when they need it," he says. "And I am extremely focused on making sure things are done correctly right out of the gate."
The three things Mike wouldn't want to live without? A hot tub, chicken wings, and good family and friends.
Todd Niccum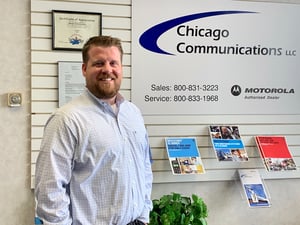 If you're in charge of public safety in the Chicago area, Todd Niccum can help you find communications technology solutions.
A Government Account Executive for Chicago Communications for almost four years, Todd serves police departments, fire departments, and all agencies that get government funding to keep people safe. As an account executive for these agencies, Todd wants them to know his job is not about just making a sale.
"I don't want to sell them something just because I'm good at selling," he says. "I want to advise them on how to solve their communication needs."
Being this type of "trusted adviser" is one of the things Todd loves about sales and the approach of Chicago Communications. "I treat Chicomm likes it's my own company," he says. "I see how different people run their business and I work with them to build a relationship that they can count on."
"My approach to selling is actually teaching," he says. "I set out to provide a background and an education about what we can do to improve safety and communications for their officers on the street. I'm there as an adviser."
The three things he says he can't live without: Faith, family and friends.

Gabrielle Glashagel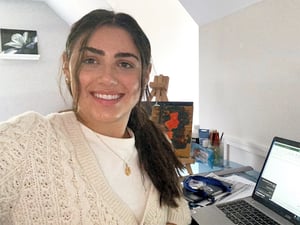 Gabrielle Glashagel grew up in the age of smartphones and other personal devices, but surrounded by evidence of the durability and safety of two‑way radio systems.
"Radios can streamline communication within a company by not only being safer and more secure but also being cost‑effective," she says. In her cross-industry sales role at Chicago Communications, she helps professionals in a variety of workplaces bring safety, security, and cost-effectiveness to the fore every day with effective communications solutions.
Gabrielle has been a member of the Chicago Communications sales team since October 2020, having interned in the company's marketing department two years prior. As the daughter of ChiComm's principal/owner, Cindy Glashagel, Gabrielle grew up steeped in the wireless communications industry. Her immersion in the business gives her a depth of communications expertise as well as knowledge of Motorola products and all of the company's product lines. She enjoys keeping up on the latest communications technology developments.
Gabrielle is soon to graduate from DePaul University with a B.A. in Art, Media and Design and a Spanish language minor. When she's not working, she enjoys a variety of creative pursuits such as painting, drawing, and studio and digital art. "I also am very obsessed with my dog," she says, and enjoys getting fresh air with him even in the cold Chicago winters.
Three things she can't live without? "My family, my dog, and coffee," she says.
Anna Duvall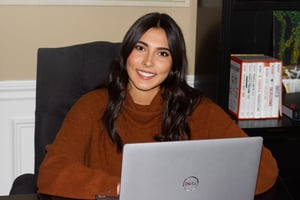 Anna Duvall has been a member of the Chicago Communications team since late 2020. Helping people solve their problems is what motivates her every day: "I love the idea of being able to help someone solve an issue they are facing."
As a sales representative in the public safety and government sectors, Anna focuses on identifying the communication problems and barriers facing agencies and finding the most effective and secure solutions for them. She is particularly proud of how ChiComm's radios and video surveillance systems boost public safety — even during a pandemic.
Her day-to-day contact with public safety agencies has reinforced her understanding that communications solutions must be secure and efficient to keep up with the demands of public safety officers' day‑to‑day work. "My favorite part of the job has to be the people I work with, both the customers I meet and everyone at Chicomm," Anna says.
Anna is soon to graduate from DePaul University with a bachelor's degree in Marketing with a concentration in Sales. When she's not at her desk, Anna loves spending time with friends and family. She's also fond of listening to podcasts while she takes her dog for a walk.
As for three things she can't live without? "My family, my dog, and I would be lying if I didn't say coffee," she says.