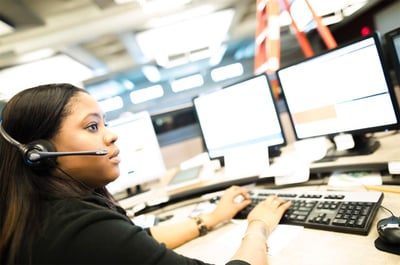 One of the most satisfying parts of my job at Chicago Communications is helping clients such as health care organizations and school systems create centralized security systems that integrate voice, video surveillance and data analytics.
For these customers, having a centralized command center makes all the difference, allowing them to operate security operations at multiple locations.
I'd like to share some insights from working with schools and hospitals. Several of these organizations have worked with Chicago Communications to centralize their security platforms, and they are seeing the results with more streamlined, cost‑efficient, and secure systems.
Hospital Security: Managing Personnel Costs and Streamlining Communications
For hospitals with multiple facilities, redundancy in personnel can be quite costly, along with operating and maintaining multiple platforms of video surveillance and records management.
Here's what one customer's system looked like.
Before: A Complicated State
Imagine each hospital location has a central security office. Each office has a Security Director and an Assistant Director. These folks are using multiple platforms to communicate with other departments within the hospital, and they have no other way of talking to another hospital in a crisis other than a telephone. In addition, the video system at each hospital may be on a different platform. Add individual records management and multiply this across 10 hospitals and you have quite a mess.
Solutions: Centralized Command Center
We partnered with this health care organization's video vendor to create a centralized command center capable of taking calls, monitoring hospital video, and centralizing the radio platform to communicate with each location.
In today's world, 911 centers are not the only way to monitor regional incidents. Customers are getting ahead of the curve to minimize their liabilities for these emergency needs.
Our Motorola MOTOTRBO Linked Capacity Plus Trunking platform created a common radio platform that each hospital uses. It also allows non‑emergency personnel, such as facilities and patient transport, to reach out to the command center to notify them of incidents or request assistance. Their video vendor upgraded each platform to deliver quality streaming video across their data network.
After: Coordination and Collaboration
By centralizing hospital security operations to one location, we started bringing those platforms in on a hospital‑by‑hospital basis. Two‑way radio communications both locally at each hospital and across the system were developed for greater coordination among locations. Standardizing video surveillance systems and records management systems created a cohesive platform for everyone to use. Finally, duplication in personnel was reduced and run on a regional level for management control of the individual locations.
Now this health care organization has an integrated system that does everything they need to keep patients, staff, and employees safe and secure. They also have a more streamlined budget now that everything is on the same platform.
School Security: Coordination Can Save Lives
Some of the same issues exist in educational settings. When one school goes on lock down, you can bet the others need to be aware of the situation and be prepared to follow suit.
We worked with a large school district in the Chicago suburbs to centralize their ability for one administration staff to effectively get emergency notifications out on a one‑to‑many path using two‑way radio communication, instead of dialing each school up to notify of an issue or crisis.
Radio communications were consolidated, by using platforms such as Motorola Wave on Cloud, allowing cell phones and tablets to be in constant communication, even with personnel not on site.
We also helped the administrative office create a central system for tracking school buses, tracking video, and coordinating district‑level events.
All of this worked better and more efficiently at a district level, rather than on a school‑by‑school basis.
The Benefits of a Command Center
When there's a security incident at a hospital or school, how does having a centralized security command center help?
By timestamping and controlling all information coming into one location, a command center can ensure that everyone is aware of an incident who needs to be aware. This is done by using the following technology:
A records management system such as Motorola Solutions Ally CAD
Streaming video recorded on cameras, such as Avigilon cameras, to the command center
Two‑way radios

, allowing for seamless communication among people on site and with the command center
Having this multi‑input platform in one location allows for these command centers to properly record the incident, inform authorities, and provide relevant information to further process the incident in the manner it needs to be resolved.
A Long‑Term Approach
Not every management executive or budgeting gatekeeper understands the benefits of investing in a centralized security system to control multiple facilities on a single platform. Sometimes it's tricky to get a lump sum (or a monthly fee) together for such a project when it involves IT and security budgets. But school districts, health care organizations, and other institutions that take a long‑term approach to improving security find that it really does pay off in the long run.