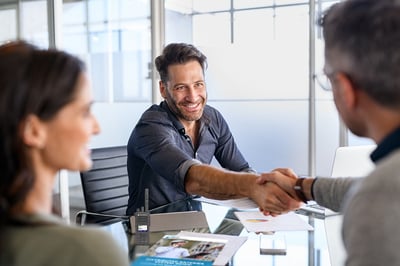 In these inflationary times, everyone has to keep an eye on budget costs.
But when it comes to communications needs, it's both wise and cost-effective to consider the added services and benefits offered by your communication technology partner.
What are some of those added services and benefits?
Turnkey Systems
Turnkey system solutions mean a partner, like Chicago Communications, will take care of all of the customers' needs, every step of the way.
The partner designs, installs, and supports the system. Everything is customized to fit the customer's needs, budget, and timeline.
Here's how we do it.
1. We talk to you.
Our experienced technicians analyze the critical design parameters, information, and directions to custom-design a system/network to meet the needs of each entity.
2. We discuss solutions
based on gaps, problems, and possible ways to address them.
3. We offer options.
4. We provide superior system integration.
A system is only as good as the human beings who design and support it.
At Chicago Communications, a turnkey solution means the customer doesn't have to find contractors for the electrical work, the programming, or any other aspect of the communications system; we do everything in-house.
Smooth Transition
A communications system is like a stack of dominoes, where every part affects another. And many of these systems are mission-critical. Lives and livelihoods depend on a migration being done properly and swiftly.
Our management resources and technical support services include engineering, staging, installation, and optimization. The jobs are done by experienced union technicians with decades of experience.
We also make sure that service is seamless. Safety and production can't slow down or take a break. So whenever something is being changed or upgraded, engineers and technicians need to make sure that alarms, security, and facilities are all functioning while a transition is happening.
Consulting, Optimizing, Servicing
What are some added services and benefits of working with a full-service partner?
1. Consultation
A consultation is a full assessment of an organization's gaps, needs, and potential for future growth. A consultant will recommend a solution that meets those needs and fits the budget.
An experienced engineer comes to the site and analyzes the system, offering a full analysis of what they found.
For example, if a site has interference, the engineers can determine where it's coming from, research the problem, and pinpoint the source.
2. Optimization
Experienced technicians can determine if a system is working optimally. What are the strengths and inefficiencies in the system? What can be added, subtracted, or enhanced to make the system do what it should be doing?
3. Service
Chicago Communications is a certified Motorola service provider. With two-way radios, we take them in and look at them, or send them to Motorola to be certified. Our technicians track the radios and service the systems we deploy.
Unlike a low-cost internet deal, this service guarantee means that your communications system is guaranteed to work—or we'll fix it.
Trusted Partners
When a trusted partner offers turnkey solutions, consulting, optimization, and service, you get a guarantee that your system will perform as needed, 24 hours a day. If something goes wrong, Chicago Communications has technical staff available 365 days a year, 24 hours a day, to answer your questions.
Communication is too important to leave anything to chance.