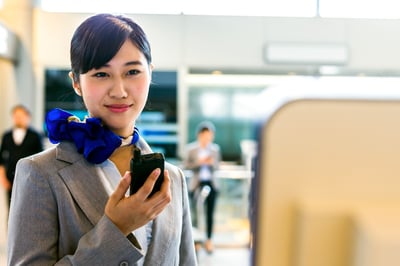 If you're in charge with improving communication technology at your company, whether you're in public safety, education, manufacturing, healthcare, or hospitality, you may have heard of the functionality and power of a distributed antenna system. From there, your research may have led you to a distributed antenna system company. At this point, questions often steamroll. What do distributed antenna system companies do? And, do you really need one?
This overview can provide education to help inform your decision and set you on a path to the right solution.
Understanding DAS
A distributed antenna system is a network of indoor and outdoor antennas that, along with bi‑directional amplifiers, amplifies the strength of radio and commercial carrier signals and frequencies for more reliable in‑building communications coverage. It works by picking up the wireless signals and frequencies and redistributing them to dead zones and hard‑to‑reach spots.
A typical DAS can effectively boost coverage in 85% to 90% of a building or facility. Further, installing a DAS can ensure that a building or facility is NPF or IFC compliant and provides dependable communication coverage for first responders.
What about distributed antenna system companies?
Distributed antenna systems companies are led by communications technology experts who can take distributed antenna systems from a concept that you read about to an installed solution at your facilities. The companies can offer turnkey solutions, from project management to installation and quality control, so that your company can start recouping the benefits of a DAS as soon as possible. Some companies actually have specific hardware to facilitate the process and maximize performance. For example, they may have DAS interface panels that can be positioned between the base transceiver station and the headend of the DAS. This overall approach can maximize the DAS performance and improve coverage.
What makes distributed antenna companies a good option to turn to is that they most likely do not just handle DAS. Quality companies, like Chicago Communications, provide DAS service and installation as part of a comprehensive approach to improving a company's coverage, infrastructure, and connections. Other services may include not only DAS but other in‑building wireless technology. In addition, they will often be able to provide communications network solutions to expand cell site coverage, optimize network deployments using copper or fiber connectivity, increase system capacity, and keep network equipment protected. Many distributed antenna companies may also provide site management solutions and support to monitor your systems and troubleshoot any issues.
Why look to distributed antenna system companies?
The main reason to reach out to this type of provider is their expertise. These companies have not just the right equipment and trained technicians. They also likely have experience implementing solutions for your exact industry. For example, professionals in public safety must meet federal regulations in regard to emergency and disaster preparedness communications. Distributed antenna systems can be a key component in making sure coverage is reliable, and DAS companies can be instrumental in making sure you're meeting industry standards.
If you are facing communications challenges and need to call in expertise, distributed antenna system companies can be an ideal option. But, it's important to evaluate them from an overall communications standpoint. Do they only specialize in DAS? Can they be your communications partner over time as your business grows? Finally, do they have trusted and reputable customer service capabilities to field your questions and make sure you're satisfied with their deliverables? Reviewing these questions can help you evaluate your needs and move forward with the right DAS provider.
To learn more contact us. And, for more information on the power of DAS, download our free Distributed Antenna System Guide.