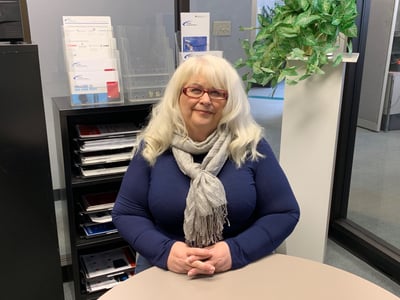 Chicago Communications' Nancy Rezman believes every customer is the most important and the more challenging their situation, the better. "Those are the ones I like the most," she laughs.
Nancy came to ChiComm over seven years ago with a background in design, customer service and support—skills she blends together in the role of inside sales support and telemarketing. She says she was able to take this simple role and grow it into something more, and her goal is to be sure the clients' needs are always met, especially if they're stressed or under pressure at the start.
"My satisfaction comes from that," she says. "Because we're here to make sure everything goes the way it should go, from start to finish."
She says many people don't realize that ChiComm is turn-key. "A lot of people think that with radios, you just turn them on and use them. But we walk people through the entire communications process," she says. This means coming out to businesses, engineering solutions, and making sure they connect people throughout the company, the country, and even around the world. "We don't just set up the technology and walk away. We're going to be there as companies grow, problems arise, and needs change."
Helping her customers get to those solutions is her greatest source of pride. As Inside Sales Support, Nancy says she gets to work with the best team of Account Executives. "I've been given the gift of learning so much from my team. And I get to pass that knowledge along to our clients from different verticals, from education to manufacturing to public safety, and some of them in some high-pressure situations. I enjoy being the person to make sure they all have what they need."
She adds, "Building and sustaining those strong relationships is a must. Treating someone like you want to be treated is so important today. It all starts with listening, patience, and taking that extra step to anticipate their next need."
This is a passion that's very much in line with the service-based and family-owned culture of Chicago Communications. Nancy says she's worked for major corporations where "you're just an employee." But at ChiComm, you're family. "It doesn't take long to start feeling that way."
Nancy's gift for helping is something that she's had her whole life. In addition to engaging and supporting customers throughout her career, Nancy loves spending time with her husband, sons, and new daughters in law; enjoying Sunday dinners; and going to concerts. She and her husband also host podcasts and speak at conferences, addressing people who have lost a loved one or been touched by grief.
"It's just about helping people, and that can take a lot of different forms," she says. "In any situation, I want to be the person people come to. I want to be there for them."
Nancy was born and raised in Chicago and moved out to the suburbs in 1990, but she says she is still a city girl at heart. The things she can't live without? Family, friends, music, and her three fur babies, Godfrey, Vanna White, and Jackie Chan.