Spotlight on the Technicians; Experience Behind ChiComm
Chris has been interested in electronics ever since he was a toddler. After he learned how to say mom and dad, the next word he learned to say was 'electricity'. At age 11 he was already heavily into CB (citizen's band) radios and by the time he was in high school he got into building car stereos and installing equipment into cars. So I guess it shouldn't come as a surprise that as an adult Chris was able to successfully build a 100% battery run electric vehicle, in his free time! This project took 3 years for Chris and his dad to complete from start to finish, all within his garage. The truck (pictured below) has a 50 mile range depending on driving speed and conditions, takes 4-5 hours to gain complete charge and can reach a top speed of 75mph. Like other vehicles of its kind, it can be charged anywhere with an electrical outlet. The truck is used for short trips and errands around town and the 2,000 mile mark was recently crossed without having yet run into any major problems.
This quick glance into one of Chris' hobbies gives you an idea of the talents he brings into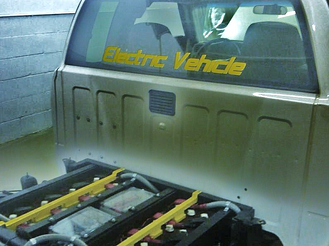 his professional work. He has years upon years of relevant experience with communications equipment, technology and in the service industry, that dates back to his teens. While in high school he worked for his dad's land surveying company as a crew chief. Land surveying work involves computer drafting and conducting lots of research in the field to determine the boundary of real property on the ground. Chris used techniques and science to accurately determine the terrestrial or three-dimensional position of points and the distances and angles between them. Not the average job for a teenager! Chris continued working at Phillip D. Young & Assoc., Inc. throughout all of college until he graduated from DeVry University, where he earned a Bachelor's of Science in Electronics, Engineering & Technology.
After college Chris worked as a bench repair technician at Doran Scales for a year. Doran Scales received food scales from large companies like Boston Market and Krispy Kreme Donuts and Chris was responsible for cleaning, repairing and refurbishing them to be reused. After this he got a job as a bench technician at Precision Midwest, a Navigation Dealer. Chris was factory trained to service Trimble surveying equipment, which includes GPS Receivers, Total Stations, and Data Collectors. He was familiar with this type of equipment from the surveying work he had done when working for his dad. After two years Chris left to take a position as an installer for Comcast. As an installer he would go to customers' houses to connect a service drop from the pole at the street to the house, and run outlets to various rooms to install video, internet or telephone service and interface it to their equipment. Along with installs, he was soon performing service calls to correct problems at customer locations. This is very similar to what he does now at Chicago Communications. Cable TV is RF (Radio Frequency) running thru Coaxial lines, and with digital technology he was working with video, networking computers, and interfacing telephones and alarm systems, which he works with today as well.
In 2007 Chris started as a technician for ChiComm and he trained both on the bench and in the field. Larry Garfi worked with him as a mentor, teaching him the ins and outs of console installations and base infrastructure. Like most technicians, the first year was filled with responding to service calls that usually involve system or equipment repair and other maintenance issues. Typical service calls involve operator errors, telephone line problems, power glitches, and system problems from storms (including damage from water, lightening, etc.) The more time he spent on the job the more he learned about system infrastructure and how things worked on the back end. "Radio is telephone and telephone is radio," he says. Chris especially gained a lot of system installation experience when he began working with John Larson on public safety and 9-1-1 center projects. One of the first big jobs he remembers working on was installing MCC5500 consoles with a patriot 9-1-1 system for Village of Lyon's Dispatch Center.
I asked Chris to break down the process into basic steps to help understand what goes into the installation of consoles and equipment in a dispatch center. "Technology is always changing and that can be challenging, even if it's the same system you've already installed several other places. It's always a challenge to figure out a new plan and a way of laying out a project setup at a new location and successfully fulfilling it. Some things you have to consider before you get started are the size of the rooms, who will be servicing or repairing the equipment later, heating and cooling in the facility, the routing of all the cables and where everything will be placed. Then you set up a master site that contains all the servers for the system. Next you pull network cables and lines to the console position and put connectors on the end of the cables. Then you physically install the equipment (setting out speakers, microphones, computers, etc.) But there's a lot more to it than that. Every large dispatch center has a back room with all the cable and foundation of the systems infrastructure...we build that system starting from scratch to making it a fully operational system."
Working for Chicago Communications is Chris' dream job come true and he feels it's a bonus that all the people he works with are great too. He couldn't believe how many people have been here for several decades each. "There's just a wealth of information here to draw from when you look at all the combined experience ChiComm has, even as a small company," Chris said. "And the owners really care about the people that work here and you can see that every day, which is hard to find." Chris thinks the best part about working here is seeing something new every day. He added, "Every day is a challenge and nothing is ever easy, but it beats working in a cubicle any day of the week." We're glad he found a job that's the perfect fit!
Thanks to Chris for sharing his story and for all of the hard work he puts in at ChiComm!
This article was written by Jill McNamara, Internet Marketing Coordinator at Chicago Communications. Jill has written all of the Meet Our Techs & Employee Spotlight articles for ChiComm's blog and continues to seek opportunities for articles relating to the wireless communications industry. If you'd like to submit a suggestion for Jill, Contact Us!