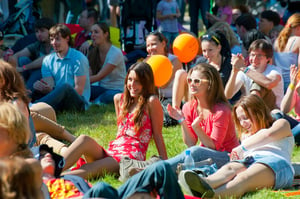 In the Midwest, we often celebrate warm, beautiful summer weather with months of events. These warm months often signal that graduations, parades, festivals and concerts are just around the corner. Although these events are fun to attend, most don't realize just how much work goes into planning and executing a successful event. One of the most important things to ensure a smooth and safe event, regardless of the event, is clear communication.
So what does clear communication look like? For one, it involves digital, two-way radios being supplied to event staff. Notice that line says "two-way radios," not "cell phones" (there's a big difference). These radios allow the event staff to communicate effectively regardless of their location or the noisy environment they may be in at the time.
Many organizations who put on these events typically debate using two-way radios because they are unsure if they want to purchase them. They are often unaware that renting radios is actually an option for them. Renting is becoming more popular all the time because many events are seasonal so they only require radios for a short period of time.
In addition to seasonality, the communication needs of these venues are often as unique as the events they host, further making the case for renting.
Here are four reasons you should rent digital two-way radios for your summer event:
Push-to-talk
Many events require instant communication between the staff. Two-way radios leverage push to talk technology and allow users to simply push a button and be connected with their counterpart in a fraction of a second. This feature is especially important when it comes to event security or for those event staff members working alone.
Here's an example: You are working a festival and notice a situation that could compromise the safety of the attendees and needs immediate attention. If you are relying on a cell phone call, you may not be able to get in touch quickly, whereas push to talk technology on a two-way radio lets you instantaneously communicate. In short, being able to reach your staff quickly helps keep things safe and efficient.
Noise Cancellation
Events can be loud, that's no secret. When you run an event such as a fair or concert, your staff is typically going to be around loud environments filled with yelling children or blasting speakers. If you rent two-way radios, you will be able to communicate with these staff members regardless of their current environment, as the radios often come loaded with noise-cancelling technology.
This means that when you radio a staff member who is near a stage or speaker, you will still be able to hear them clearly. The radio locates and locks in on the user's voice, amplifying and sending it across the radio chancel back to you. What good is a communications system if you can't hear what's being communicated?
Extended battery life
Did you know two-way radios can last twice as long as cell phones? This benefit of this feature is pretty clear: you need to be able to rely on your resources for the entire duration of the event (including set up, the event itself, and tear down).
Cost
Although two-way radios save you money, if you are only doing one or a few events this summer, buying radios may not be for you (unless you plan on hosting these events every year, then it may be the best option in terms of long term savings).
Renting radios is a cost effective way to ensure you have reliable, clear, and all around great communication at your summer events. To learn more about renting radios, contact Chicago Communications today.