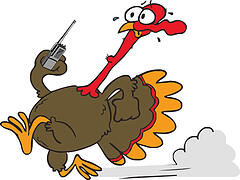 Thanksgiving has come and gone, and in just a few short days the year will also come to an end. But Chicago Communication's rental department acted as a catalyst for the city of Elmhurst into the holiday season this past November with the 30th Annual Dan Gibbons 'Turkey Trot'.
Held on Thanksgiving morning, runners of all ages joined at the starting line to raise money to help feed local families who were in need of a meal, not only on thanksgiving but every day; something that we may take for granted on a regular basis.
However, in order to have such a successful long running fundraising event, communication amongst staff and volunteers must be a top priority. Not only does in ensure that all of those involved in the execution of the Turkey Trot are where they are supposed to be, but also keeps runners safe.
A typical response to the question of "Do you actually need two way radios for communication during your event?" is a no, followed by the explanation of having cell phones in order to contact others. However, there are some questions that Tony Cuzzone, President of the Turkey Trot fundraiser, had to answer when deciding on a communication device. "What are you expecting? How quickly do you want to communicate to others? One at a time, or mass communication? How much diversity do you expect in your communications? How much security are you expected to provide?" are just a few precursor questions. He then decided two way radios were the best option for him.
Cuzzone couldn't have been more thankful for the two way radios Chicago Communications provided for the race. "Someone fell this year and was slightly injured. When I heard of the incident, the Course Marshall's Coordinator was quick to radio me and let me know an ambulance was already on its way". Without the quick communication across the span of a 5K race course, valuable time would have been wasted just trying to summon emergency help.
The Turkey trot has increased in participants every year. With events over the course of 2013 (such as the Boston Marathon incident) in the back of everyone's mind, ensuring safety for runners is necessary to keep improving and growing the race. This year, the Dan Gibbons 'Turkey Trot' had over 8,358 registered participants. In addition, there were almost 1,000 people who came out just to watch. "It's nice to know we have a dependable communications system that meets our expectations," said Cuzzone.
Safety aside, event operations would be nearly impossible (at least so in a timely manner) if not for the two way radios. The Turkey Trot encompasses more than just a running race; other duties include the Lima Lima Flight Team fly-overs, shuttles busses, road closures, proper signage, coordination with City of Elmhurst Staff, music and sound systems, set-up and tear-down, security, and residents' communications and concerns. Cuzzone said "the radios are a key component to the event."
So why should Chicago Communications be who you contact for your two way rental needs? Well, we could say that we offer some of the best customer service around, and are ready to tailor to whatever needs you have. But that would be a slightly biased statement. So we'll let our customers do our talking. Cuzzone said "Using ChiComm two way radios everyone is on your frequency …sometimes that's beneficial when you cannot locate someone…or if an emergency develops, there are multiple eyes and ears that are communicating with you. Private channels can be programmed so you have the ability to communicate with certain radios and not all, if needed. That helps cut down on some unnecessary radio traffic. It can also provide a "secure" channel for security purposes."