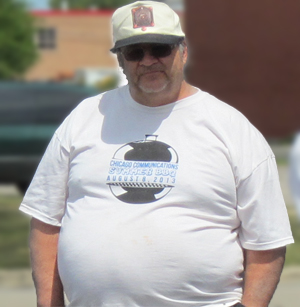 Always busy at his work station, Dan Wolski has fixed radios, accessories, televisions, and security equipment for Chicago Communications since 1994.
Originally from the Chicago land area, Dan grew up interested in electronics and their functions after a friend introduced him to radios. He ultimately decided to make it his career. He attended a technical school in Indiana, in the vicinity of Valparaiso College.
Dan's career in radios began in a small CB store his friend owned, located in Kankakee, IL. There, he would repair all sorts of radios, ranging from small hand held two way radios to entire radio systems installed in vehicles. He decided to then move back up to the Chicago area, where he landed a position within ChiComm.
He began his work at ChiComm as a field service technician, going out on calls to work on systems and radios. He told me that working with police radios was one of his favorite types of service calls. Being a vital component in making the radios work for public safety officials was one of the most gratifying things of the job.
Dan then moved up to one of our engineers at the ChiComm Elmhurst office, where his daily tasks range from answering phone calls from vendors and customers to fixing radios. One thing that set ChiComm apart from any other company Dan has worked for has been the openness in all aspects of the business. Principal's Cindy Glashagel and Kurt Hessler keep the employees informed on the company and are very easy to talk to. Everyone is great to work with, and they are willing to answer questions, or point you in the direction of someone who can better answer it for you.
As if almost 10 years at ChiComm didn't quench Dan's radio thirst, he doesn't plan to give up radios upon his retirement. Dan hopes to further his interest in the public safety sector by volunteering his time and efforts towards the American Red Cross. He hopes his background knowledge in repairing various types of radios can be mutually beneficial with the American Red Cross. Being a key component during times of national disasters will help fuel his hunger for the technology world.