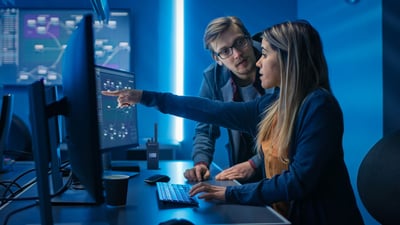 It seems like every few days we see some report of a breach in data security, leaving customers' private and financial information exposed and vulnerable. The biggest one on record so far was the 2013 Yahoo breach that affected 3 billion (!) accounts. Even worse, it took three years for Yahoo to publicly announce the breach.
Most of these major data breaches are accomplished by hackers and data scrapers far from the physical data centers. Still, it is critically important for secure communications that the actual data center facilities are physically secure and using the most up‑to‑date surveillance, alarms, and two‑way‑radio communication systems.
It's scary to think of someone getting a hold of our most personal and sensitive information, or for a data center to experience an emergency that compromises their storehouse of important data.
These centers need to be able to communicate safely, securely, and instantly to prevent those worst‑case scenarios.
In Case of Emergency…
The first thing you want to do in case of any emergency in a data center is to reach everyone who needs to know about it, no matter where they are, off‑site and on.
Two‑way radios are built for this kind of use. Apps like Motorola's WAVE PTT use push‑to‑talk (PTT) technology to connect a team across different networks, devices, and even different locations.
No matter what industry or sector you're in, you need a data security system that works for you. For example, that system must deliver alerts in the ways that you and your team will reliably receive, whether that be email, text, text to a radio, whatever works best for that situation.
Not every data center has a system for emergency communications offsite. That seems risky to me.
MOTORTRBO to the Rescue
Data centers need one system that can keep the entire facility safe, because there is no room for costly and dangerous breaches. For a start, I'd recommend data center customers look at Motorola's MOTORTRBO. It's a modular technology ecosystem that uses one platform to integrate two‑way radios, infrastructure, consoles, and services.
In the case of an emergency, MOTORTRBO uses encrypted channels to alert everyone on multiple devices to the problem. Everyone is connected. Data centers have multiple redundancy, so they should be able to address the issue without losing any critical information.
Safety Reimagined
Data centers are massive, so they need communication from one end of the building to the other. As is the case in other settings with high security needs, coverage and redundancy are crucial. Redundancy means that if something goes wrong, there are backups in place to ensure that security can be restored, and that this can be done as quickly as possible.
To optimize security, data centers might also consider Motorola's Safety Reimagined. It's an integrated ecosystem that integrates mission‑critical communications, command center software, and video security and access control.
Safety Reimagined uses cloud‑based software and artificial intelligence to control a security ecosystem.
Security guards can't be everywhere at once in a massive data center. So it makes sense to outsource and automate some of these duties, like putting cameras on essential equipment.
Eyes on the Prize
Safety Reimagined helps put eyes everywhere.
In the case of a power outage or electrical shortage, a camera could capture a digital picture of the problem and send that out over the radios. The same is true if there was an intrusion or another physical breach.
Any problem could be detected quickly and then the emergency communication system would kick in.
It all comes down to getting the right information to the right people as quickly as possible.
A More Secure Future
When it comes to our data, nothing is more important than security.
We are lucky to have so many good solutions and options. But clearly, we need all hands on deck to prevent the kinds of breaches and issues that put the public's information at risk.