When I think about the communications trends among our health care industry clients, one of the biggest emerging themes is collaboration: Hospitals and medical centers are looking for devices, applications and solutions that bring departments, agencies and sites together on the same platform so they can keep in touch to address situations.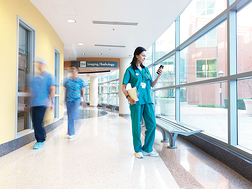 Every health care client is different, and within those clients, each department has their own unique communications needs, from the emergency department, to facilities, valet and beyond. As I mentioned in a previous post about school transportation, all of our communications solutions are custom built for each client. Part of our challenge then is to develop systems that work well for each client and all of its parts.
It's an exciting time to be working in health care, and here are the communications trends that are transforming the industry:
Radios Are In, Cell Phones Are Out
There was a period of time when health care clients who had been using radios switched to wifi on cell phones instead. But as they've encountered the limitations of cell phones -- especially involving coverage -- they've switched back and are seeing the value of radio systems.
Some of the popular products include the Motorola MotoTrbo XPR7550 and XPR3000 Series. Radios are also a superior solution for the health care setting because of features and functionality such as:
Indoor positioning: Users can instantly locate each other inside sprawling hospital campuses.
Man down and lone worker

: For staff who work alone or off hours, and/or need the ability to raise alarms at the touch of a button.

Using data for privacy: Health care users are expanding their use of radios for text as well as voice communications. Text offers a way to discreetly and securely transmit information without interrupting patients and while adhering to HIPAA regulations.
Interoperability: Radios allow hospitals to seamlessly connect with public safety agencies and first responders.
Applications for Enhancements
Health care clients are also using radio applications to enhance the functionality of their radios. Single sites are using Motorola Capacity Plus for digital trunking, while facilities with multiple sites are using Linked Capacity Plus to connect.
Other popular applications include Motorola WAVE 3000 and 5000, PTT platforms that instantly connect radios with smartphones, tablets, laptops and even desktop computers.
Centralizing Communications
Anyone who has worked in a large company or organization knows that it can be difficult to get different departments to stay in touch, and hospitals are no different. Each department ends up as its own island, and the issue is even more complicated when a health care provider is spread across multiple buildings or locations.
Radios and universal communications platforms are bringing groups and locations that used to operate separately onto the same system so they function as one team. And because radio solutions are so customizable, we're able to provide platforms that meet everyone's individual and collective needs.
In some cases, we're also able to reduce the sheer number of devices that health care users have, and when we're tailoring solutions, we look for ways to combine functionality as much as possible.
To get the communications technology you need at your health care facility, contact Chicago Communications today!
r
w