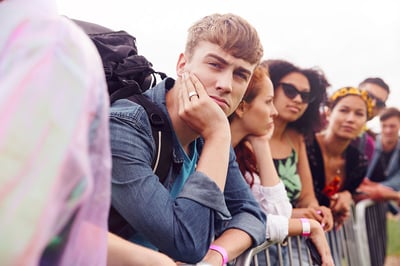 In this day and age, concealed weapon detection is a key aspect of keeping people safe.
Whether it's schools, hospitals, manufacturing facilities, or events and concerts, we all agree on the need to stop dangerous weapons from entering these places and bad actors from committing heinous crimes.
But who hasn't been slowed down and searched by hand because of a harmless object: coins, keys, or a cellphone? Or a joint implant?
How do you keep people moving safely in and out of facilities and grounds without slowing traffic with older metal detectors, pat downs, and wands?
We are excited about a new technological solution that is able to quickly scan entrants and determine whether they are carrying weapons. Anyone who is concerned with keeping their organization safe from harm might want to consider the benefits of upgrading their system to this next generation of weapons detection.
A New Solution
Motorola's Concealed Weapons Detection (CWD) system is the solution we've all been waiting for. It's powered by Evolv Technology, part of a generation of smart technologies that are able to detect threats by using advanced sensors and artificial intelligence (AI). This new technology has many benefits over the old methods we used to detect weapons.
The system has already been used to screen more than 60 million people; it's used by Disney, major ballparks, hospitals, concert venues, and amusement parks.
It's not inexpensive, but when you have a large facility to protect, it does help you move people through quickly in a non-intrusive way.
Here are a few of the benefits of CWD screeners.
Touchless
The pandemic drove home the need to have weapons detection be touchless. People move past the CWD sensors, and if no weapons are detected, they hardly know they are being screened.
Customize-able
If the leaders of a school, hospital, office or manufacturing facility feel they have any vulnerability to dangerous intruders or security challenges, this system is extremely flexible. It can be customized and set up wherever people enter.
Fast and Efficient
Concealed Weapons Detection is a touchless system that allows people to move through without taking things out of their pockets. Evolv Express is able to screen up to 3,600 per hour. I went to a casino in Michigan that was using it, and it was totally smooth, and not invasive at all.
Data Capture
The CWD system still requires somebody monitoring a tablet, but it's also capturing video using state-of-the-art Avigilon cameras. If someone does cause trouble in your building, you'll have the video data to help identify and deter the threat.
Simple and Versatile
This system is simple to install and deploy, and it can be moved around to different points of entry. It's self-sufficient and doesn't require wiring because it works on cellular signals, it can be moved where you need it most. It can work inside or outside, and have one or two lanes if you need to move more people through it.
I also appreciate that it's easy to train people how to use and maintain it. The company sends out updates automatically through its maintenance program.
A Step Up from Metal Detectors
The CWD system is just much smarter than a traditional metal detector. That's why you have to stop and take everything out of your bag and pockets; a metal detector is going to flag anything that is metal, including everyday objects. And not all weapons are metal, so this is looking for specific objects that can be dangerous, including explosives. I've gotten flagged for having a computer in my bag, or a tool, like a screwdriver that I forgot.
And it's much easier for people who have metal plates or implants to step through a system like this rather than having to get patted down or have an employee use a wand only to discover it's their knee, hip, or ankle replacement.
Detect So You Can Act
Most people entering a hospital, school, business, or event are harmless, even if they are carrying something metal. But when a true threat is detected, this system allows you to act instantly to alert everyone who needs to know.
As soon as the problem is noted, alarms are sent directly to the Avigilon Control Center (ACC). The towers stream live video to the ACC while also recording the incident. It's all part of a seamless cloud-based, AI security experience.
We all hope we never have to react to a weapons threat at our workplace, but if we do, we can rest easier knowing that we've done all we can to root out the bad guys and leave the rest alone.