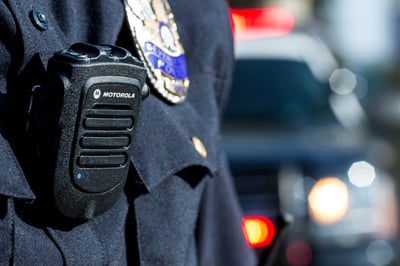 Communications technology is essential in multiple industries, and one of the areas it is most important is in the public safety sector. For those committed to protecting and serving, having the right equipment is an everyday necessity. And when it comes to police communication technology in particular, there are several communications essentials that can give officers dependable, real-time information to stay informed and safe and to respond properly. Here we look at some of the most employed solutions.
Two-way radios
In the field and on duty, two-radio radios keep officers communicating in the most challenging environments. Two-way radios are designed to be rugged and reliable, and to work when cell phones can't⁠—even during emergencies, power outages, and when cell towers are overloaded. Two-radios also use push-to-talk technology, which allows for instant connections with individuals and with multiple parties at once.
Two-way radios are an excellent example of police communication technology in that they are lightweight and powerful. They are also so compact, they can be easily carried along with other gear.
Paging systems
Another technology for police officers is a paging system. While many pagers have been replaced with SMS texting, today's paging solutions offer benefits over cell phones. Mainly, they transmit messages using very high frequency radio signals, which means they can reach further, require fewer transmitters and have less interference than cell phones. Sources say pager messages often can get through in remote areas when cell phone calls and SMS text messages can't. In addition, pager messages can get through faster⁠—in just a few seconds, as opposed to the minutes, hours, or days SMS text messages can take if networks are congested.
Police body cameras
Wearable body cameras are another police communication technology that can improve operations, and sources say they're becoming standard equipment in police departments across the country. Despite some privacy issues and potential technical issues, these cameras offer law enforcement officers several benefits, such as minimizing complaints about officer behavior, producing evidence, preventing false accusations, and increasing transparency. They can also de-escalate conformations between officers and civilians.
Emergency and 911 communications
Finally, a tool officers find vital in their work is a scalable 911solution that connects the public with emergency help. A quality 911 system allows emergency response communications to be centralized and streamlined, so dispatchers can control available resources and deploy them accordingly. The system can also be integrated among multiple public safety agencies, and can incorporate voice, video, and data, including mapping and GPS. This means police officers can receive and transmit real-time information from the scene and get crucial data when they're responding to calls.
Many public safety agencies take advantage of a technology that bolsters 911 communications known as Emergency Call Works. This system uses an all-in-one application to receive 911 calls, manage call locations by map, and dispatch field resources. It can be beneficial for police officers because it is software focused⁠—which means it can be logged onto from anywhere. This can add up to potential savings for public safety agencies because they don't have to invest in additional infrastructure, and problems can be diagnosed and repaired remotely.
Police communication technology is the essential ingredient to helping law enforcement officers protect the community and stay safe. Also, the right investments can keep your police force strong.
To learn more about the equipment you need for thorough and reliable public safety, including radios, cameras, dispatch center equipment, and more, download our free Public Safety Communications Checklist.