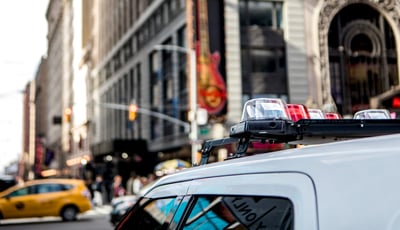 For public safety professionals, communication and fast response is critical. To make this happen, a secure, reliable system to field calls, ascertain details, and send help is needed. For many communities a technology that bolsters 9-1-1 communications is Emergency Call Works. Here we look at how this product can enhance emergency response and give agencies added savings with greater flexibility.
What is Emergency Call Works?
Emergency Call Works uses an all-in-one application to receive emergency 9-1-1 calls, managing call locations by map and dispatching field resources. The system uses a single-application design to natively integrate multiple functions. Based on this, call taking and dispatching is available directly from the map, supporting traditional 9-1-1, Mapped ALI, CAD and call receipt-to-resolution reporting from a simple browser window and seamless workflow.
The difference between Emergency Call Works and typical 9-1-1 systems is the hardware. Emergency Call Works is software-focused, allowing people to log on to the application from anywhere instead of having it reside on specific workstations.
Based on this, there can be potential savings in infrastructure and servicing costs for public safety officials by using Emergency Call Works because any problems with the equipment can often be remotely diagnosed and repaired.
Benefits of Emergency Call Works
In addition to the savings, Emergency Call Works provides greater functionality in emergency response. For example, because the Emergency Call Works phone system features call taking, mapping, and reporting, dispatchers can gather and quickly relay information.
Calls can be plotted to a map if they come from a cell phone or to an address if they come in on a landline. This saves time in identifying and locating callers. Being able to easily see and pinpoint where calls are coming from, especially when there are multiple emergencies and disasters to respond to across a large geographic area, can be the difference between life or death. It can give public safety officials the big-picture view of what is happening and where.
The system also makes it possible for callers to text messages and send images and video, which is critical if they're unable to talk or have problems describing their situation.
Another benefit is the enhanced radio features that help dispatchers and officers out in the field. This ensures communications can always get through, and provides alert toning so that officers can be told about higher priority calls.
What should agencies know?
Emergency Call Works, now acquired by Motorola, provides these benefits and more to public safety agencies. When choosing the system, agencies should consider their integration methods, scope of operations, and overall savings, while factoring in other advantages of the system:
The ability to service multiple users and agencies
Unit and incident management
Intelligent command line and "right-click" information on the status of responses
Easy-to-use browser technology and user interface
Integrated VoIP switch

Further, all Emergency Call Works workstations are compliant with NENA, the national 9-1-1 association that continually improves 9-1-1 through research, standards development, training, education, outreach, and advocacy.
Emergency Call Works is one of the many scalable 9-1-1 solutions that can help agencies serve their communications and ensure public safety. To learn more about equipment and services that can save lives, browse our blogs and contact us.