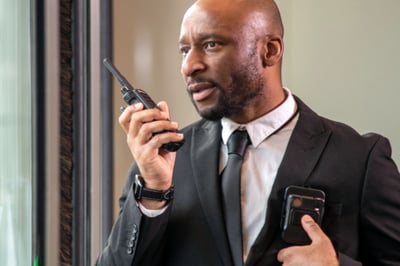 Body cameras for first responders and security personnel are being implemented nationwide and are increasingly becoming legally mandated, even as they remain controversial.
In Illinois, all law enforcement agents are now required to wear body cams, a law police departments must follow by 2025.
Meeting this expectation is a major investment, especially for smaller organizations and communities and for already stretched budgets.
The VB400 Body Camera has recently become available in the U.S. market to meet this need—it's affordable and fits guidelines required by the state and expected by communities across the country.
Law enforcement agencies know the importance of reliable recording devices to protect their people and maintain a positive, transparent relationship with their communities. The public has the right to record interactions with police officers. However, sometimes those videos don't give the full picture and can offer a limited perspective on the often aggressive and dangerous situations officers face daily.
With tools like the VB400 Body Camera, officers have their own record of confrontations for their internal documentation and for the public to understand better the difficult decisions being made. Additionally, recordings allow officers to more confidently do their work, knowing that their narrative won't be lost if their actions are questioned or scrutinized.
The VB400 was specifically designed for use by public safety personnel, given the unique situations they encounter in their work. It is a top seller across Europe and Asia. This means it's a low-cost solution that has proven dependability and effectiveness. Your community can trust that this body cam meets legal standards and will work when needed.
An individual officer can choose to turn on the VB400 before entering a situation with a person or group of people. But often, this isn't possible. So, in situations that require full focus from an officer unexpectedly or immediately, the camera also has automatic triggers. For example, if an officer decides to draw a weapon for their own or others' safety, the camera turns on.
When the camera begins recording, whether it is triggered by the officer or automatically, it not only saves video and audio from that moment on, but it includes the two minutes prior to being turned on. It also records two minutes past being turned off. This documents what events led up to an escalated situation and how things continued afterward.
At the end of a shift, when returning to their department, officers put the device on a docking station. At that point, any situations recorded that day are uploaded to the agency's data center, on-site or in the cloud. Then they can complete any necessary reports that provide more information about the incident with the case number and a written account.
The recording and the report can then be used if the case moves forward and needs to go to a district attorney's office, for example. Additionally, the recorded evidence is set up to be held and saved for as long as required for the agency, jurisdiction, and type of incident. This means data from a straightforward traffic stop would not be saved for as long as a confrontation with a violent offender would be saved.
The VB400 is perfect for agencies that need to meet their community and legal expectations without becoming too complicated. For example, it would work well for a smaller police department without implementing a large-scale, integrated A/V system with dashboard camera footage pulled and saved alongside body camera recordings.
Nevertheless, this camera does have powerful capabilities. Dispatch centers and police agencies who already work with us as providers for their evidence libraries can also live stream interactions for anyone with admin permissions. This allows backup support to be sent more quickly when necessary.
Additionally, automatic recording triggers and pre- and post-recording windows can be reprogrammed during and after the implementation process. Capabilities like these allow each agency to identify and meet its own particular needs.
It's important to us to provide you with the protection your team needs when facing potentially hostile and difficult situations each day. We know you rely on diverse forms of 911 communications to continue working with and serving your communities.
Contact us to learn more about how you can implement the VB400 Body Camera and our other solutions to support your essential work.