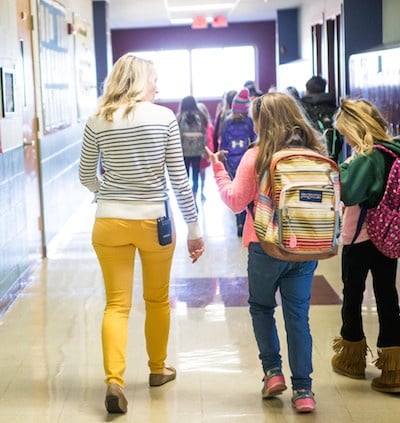 As more districts are discovering every day, two-way radios in K-12 schools are the centerpiece of any effective safety plan.
Radios outpace cell phones in terms of reliability, durability, and functionality, and there are tailored radio solutions available regardless of the communications challenges schools and districts face.
This safety guide with case studies provides a comprehensive overview of two-way radios in K-12 schools and the options available for overcoming infrastructure, geographic and logistical issues.
Cell Phones Vs. Radios: No Contest
In a survey conducted by Motorola, 99% of administrators, maintenance staff, teachers, transportation directors, and other school staff said their top priority was keeping students safe and secure.
But when those same school personnel considers how to keep in contact during emergencies, many automatically reach for their cell phones without considering that the real top communication tool for school safety is two-way radios.
Here are some of the main reasons that when it comes to safety in schools, more districts are deciding that two-way radios in K-12 schools are a better choice than cell phones.
Instant One-to-Many Communications
Imagine this scenario: A lone school hall monitor witnesses a fight brewing between students and calls for help. If they're using a cell phone, they'll need to locate their device, scroll through their contacts, find the right number, and hope that the appropriate person picks up quickly. Meanwhile, as precious seconds tick by, the conflict has escalated to the point of danger.
Now, imagine the same hall monitor is equipped with a two-way radio. Once they see the incident starting, they can use the Push to Talk (PTT) feature to instantly alert not one person, but everyone on that channel about what's happening. The monitor can not only call for help but secure the location for students in much less time than using a cell phone.
Radios Can be Used While Driving
Two-way radios are an invaluable tool for transportation staff concerned about school bus safety. For those responsible for transporting students to and from locations, it is against U.S Department of Transportation (DOT) regulations to use a cell phone while in motion.
Yet 21% of bus drivers surveyed use cell phones, and 8% use a combination of cell phones and two-way radios. Two-way radios, unlike cell phones, have been approved by the DOT.
Greater Reception and Reliability
Another concern for the use of cell phones both on and off the school premises is the chance of dead zones, lack of service, dropped calls, and more. And during large-scale emergencies, cell phone service can become overloaded and unavailable, just when it's most needed.
Two-way radios are engineered for strong reception, and radio traffic can also be prioritized to protect the most vital communications.
Radio applications and features are also available to extend their range to ensure campus communication across more considerable distances.
Longer Battery Life
Cell phones are wireless devices, but the brief battery life that makes frequent charging necessary can make it feel as if users are tethered to their chargers.
Two-way radios have an exponentially longer battery life than cell phones. In the aforementioned study, 74% of respondents regarded "using a communication device that is reliable and has long battery life" as their most important concern, making it the second highest priority.
Lower Long-Run Cost
With all of these school security benefits of using two-way radios rather than cell phones, how come schools haven't implemented the system? Budget cuts.
In the Motorola survey, 66% of respondents attributed their lack of a two-way radio system to not having sufficient funds, yet 40% say the school districts need an updated communication system to better meet their school's needs – particularly for emergencies.
What school officials don't realize is that after the upfront equipment cost, two-way radios don't carry user fees. After the initial setup, two-way radios do not run on monthly charges or handling fees like cell phone plans or school WiFi do.
Two-Way Radios and the DHS School Security Checklist
For schools looking for regulatory guidance on safety, the U.S. Department of Homeland Security has a School Security Checklist with guidelines on everything from controlling access to campus buildings to how to develop a sound communication system.
Two-way radios address many of the department's communication system requirements for school safety.
The K-12 School Security Checklist was issued by the U.S. Department of Homeland Security Office of Infrastructure Protection as a guide and framework for administrators and security officers.
The list has five items under the Communication System section, and calls for things such as "two-way communication between faculty, staff, administrators, and security personnel," and "regular communication with local law enforcement and emergency responders."
'Two-Way Communication'
Two-way radios are, by definition, "two-way communication." Radios allow school personnel to communicate quickly and efficiently across departments and campuses either individually or in groups.
And thanks to mobile radios and accessories, the devices can be used for both campus communication and school bus safety.
Don't Forget Training
Several other sections of the school security checklist emphasize the importance of training, and that goes for communications as well.
As important as two-way radios in K-12 schools are in strengthening safety, they must be used correctly to do their jobs. School staff, particularly those who don't use radios regularly, should be periodically trained on their proper use so they're ready to communicate quickly when seconds matter.
Below are two brief case studies of how K-12 schools put solutions in place to address safety and security challenges, working with Chicago Communications as two-way radio service providers.
Case Study: Fremont School District 79
When Fremont School District 79 (SD 79) wanted to improve school safety at its three Chicagoland campuses, administrators were focused on communications, both among staff and with public safety agencies, and we knew two-way radios were the answer.
We're proud that we were able to provide a solution that blended Motorola two-way radios and a Teldio application to make the district's 2,200 students safer.
Fremont SD 79 covers 36 square miles in the northwestern Chicago suburb of Mundelein in a part of Lake County that's semi-rural. Forest preserve and rolling hills make it pretty isolated, and cell coverage can be spotty.
Cell Phones Weren't Making the Grade
When the district came to us, they were using cell phones to keep in touch, and several things weren't going well.
"Our cell signal was weak," says Mike Tanner, the district's director of business services. "It didn't reach into the lower levels of our schools where we really needed it, such as the cafeteria, storage, and mechanical rooms. Our cell coverage was not only unreliable, but Nextel stopped supporting the push-to-talk network, which eliminated the redundancy we wanted to have in a communication system."
From a school safety standpoint, staff or public safety agencies couldn't reliably reach each other. Even when they did make contact, the communication was public, not private, and confined to one-on-one conversations.
Staff Swap Out Cell Phones for Motorola Two-Way Radios
Tanner is a military veteran who's familiar with using two-way radios. He understands why radios are better equipped than cell phones for what the district needs.
"We recognized the need for a reliable, always available communication system," he says. "Particularly after the Sandy Hook Elementary School shooting, we were looking for a more robust security solution for our schools, and that was a two-way radio."
The first step was to transition staff from cell phones to lightweight MOTOTRBO SL 7550 portable radios.
The 40 SL 7550 radios were provided to front-line administrators, the business office, the transportation director, custodians, technology staff, playground aides, and PE instructors who often teach students off campus.
"The SL 7550 radios are lightweight, unobtrusive, and easily worn with an outfit," Tanner says. "We intentionally selected these devices to fit the people using them. Our personnel is much more likely to carry the radios, and they are really embracing them."
Teldio App Ensures Immediate Contact with 9-1-1 Dispatchers
In addition to the two-way radios, we recommended that the district use an advanced telephone interconnect app from Teldio, a certified Motorola applications developer.
The app is designed to allow radio users to receive and make phone calls directly on their MOTOTRBO digital radios, including 9-1-1.
"This capability is important for all our personnel, but particularly for those who are outside monitoring playgrounds and sports activities and don't have access to a landline in the building in an emergency," Tanner says.
Radios Deliver Benefits
The savvy switch to two-way radios has transformed school safety at the district's campuses and given staff more peace of mind.
"Our people are very confident having MOTOTRBO radios," Tanner says.
Case Study: Evanston Township High School DAS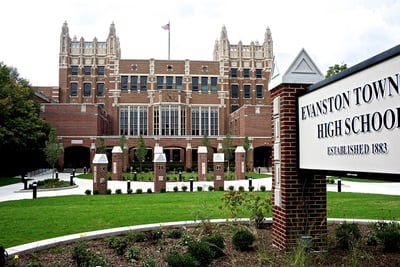 Chicago Communications was proud to be a partner on a high school Distributed Antenna System (DAS) project that's improving two-way radio and cell communications for staff, students, and public safety officials.
Evanston Township High School, located about 14 miles north of Chicago, is a large, well-known, and unique school with an equally unique set of communications challenges.
Project Partners
Partners on the project designed and installed the high school DAS, or distributed antenna system, at no cost to the school, and they'll cover maintenance for the first five years.
In addition to Chicomm, the partners were: Cobham Wireless Radvisory 5G, RFS, Galtronics, Graybar, and Fullerton Engineering. AT&T gave testing and engineering time.
By the Numbers
With a whopping 1.3 million square feet of space over 62 acres, Evanston Township High School (ETHS) is the largest high school under one roof in the country.
Founded in 1893, it has nearly 3,400 students and close to 900 teachers and staff. The school is served by the Evanston Police Department.
Challenges and Solutions
Project partners overcame challenges related to the school's size, age, and sprawl, as well as the fact that classes were in session at the time, according to Dennis Ondriska, Chicomm DAS engineer on the project.
Challenge: The historic building had no pathways for cable.
Solution: We had to create new pathways for the cable where there weren't any cable trays or we used installation hardware to put in the cable.
Challenge: Concrete walls that are 1-2 feet thick.
Solution: For the wall thickness, we either had to bypass or drill through the walls to run additional cable. We also increased the number of antennas to augment the coverage.
Challenge: Large, sprawling campus.
Solution: We added more antennas. DAS antennas are not like a radio or car antenna – they are mounted in or on the ceiling. Some look like a metal plate with an antenna and others look like a smoke detector.
Challenge: School was in session.
Solution: We worked after hours and on weekends to avoid disrupting students.
The new system has improved two-way radio and cell connectivity for ETHS security officers and staff as well as first responders, increasing everyone's safety. We're glad to have been part of such a rewarding project.
Better Coverage, Safer Students and Staff
Working with qualified two-way radio service providers guarantees you quality customer service and maintenance on your radios. By switching over to two-way radios from cell phones, school districts can save not only time and effort but also money.