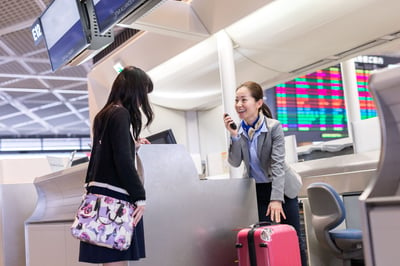 Two-way radios, when deployed correctly, can transform a business, campus, industry or agency. With this one solution, alone or in combination with applications and accessories, you can solve countless communications and safety problems and address issues with collaboration and productivity. Here, we take a closer look at this communications solution and provide answers to help your teams understand how two-way radios work and what they can do for your business.
How Two-Way Radios Work
To best understand how two-way radios work, it's helpful to know how they differ from traditional analog radios. Conventional radios send audio signals on specific radio frequencies to each other and overlay your voice on top of those signals. We relied on analog radios for years to carry one voice across one radio channel.
Two-way radio communication has come a long way since the days when a mobile system took up the entire back seat of a police squad car and a two-way radio's range was very limited. And the evolution of digital has brought features and capabilities that make radios for commercial and industry purposes a much better communications solution than cell phones.
Today, we use digital mobile radio technology, or DMR, to digitize voice communications, converting the sound of voice into the same kinds of letters and numbers as the data on a computer. That digitization process offers all kinds of benefits, such as allowing multiple conversations on the same radio frequency and better clarity.
What two-way radio systems are available
The five main two-way radio systems generally vary by the number of users and locations they're able to accommodate. They are:

Conventional, the most basic system. It's best for a single location with a small number of users, from one to 150.

IP Site Connect is a great option for small to midsize businesses. IP Site Connect accommodates the same number of people as a conventional system but uses repeaters and your existing data network to connect multiple locations that are miles apart.
Capacity Plus is a solution for 100 users or more across different locations. The system links the locations' disparate repeaters, turning them into a single unit and automatically managing traffic by re-assigning users as channels fill up.
Linked Capacity Plus is multi-site Capacity Plus for even larger customers. It uses the same technology as IP Site Connect to bridge sites together.
Capacity Max is for the largest enterprise customers, with the widest coverage and capacity for thousands of users who may be thousands of miles apart.
Understanding two-way radio features and functionality
Understanding what features and functionality are available makes it even more clear why two-way radios are better than cell phones. Not only are two-way radios less expensive, they're built for business and for safety. Among other benefits, two-way radios offer:
GPS tracking
Work order management
Indoor location tracking
Man down, which issues an automatic call for help when the radio is face down for a certain period of time.
For visual learners this whiteboard video demystifies how two-way radios work, how this functionality comes together, and the five kinds of systems available.
In just over three and a half minutes, you'll learn:
How two-way radios work
What two-way radio systems are available
Two-way radio features and functionality
Whether you're selecting a handheld two-way radio model for the first time or updating your existing fleet, understanding how two-way radios work can help you maximize your investment and better maintain and troubleshoot your two-way radios over time. And, qualified two-way radio service providers can help you create and implement the best solution.
To learn more about creating and maintaining a successful two-way radios system, contact Chicago Communications to set up a free consultation or try a free demo.