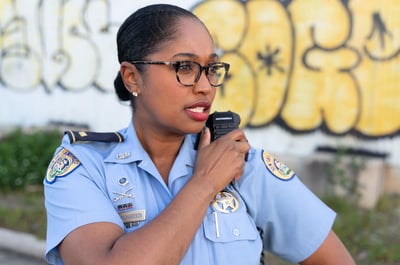 When it comes to secure communications, two‑way radios have an edge over cellphones. But hacking is an unfortunate reality in today's world, as the online world has experienced some high‑level attacks by experienced hackers (Think Google, Yahoo, LinkedIn, NASA). Because of these dangers, public safety departments using two‑way radios need to be aware of the dangers of hacking — and learn how to avoid it.
Preventing security breaches requires diligence and attention, as a Chicago‑area municipality found out recently: Members of the public were coming to routine police stops and videotaping officers responding to, for example, domestic disputes. Later, hackers found a way to talk on the police band and disrupt police activities, which is a prosecutable offense. After investigating, the department discovered a 16‑year‑old individual who had had encounters with the police was hacking into their frequencies. The department called Chicago Communications, and the company was able to add encryption to their two‑way radios to prevent these types of breaches.
How Common Is Hacking?
To answer that question, it's useful to know the difference between hacking and scanning.
Hacking means an unauthorized person is transmitting on the frequency.
Scanning is fairly common and more difficult to stop than hacking. For example, tow truck businesses use scanning to listen for accidents where their towing services might be needed and then get to the site quickly.
Adding a PL code is one way two‑way radio service providers are able to reduce undesired scanning activities. These are codes that can be transmitted by the group of radios that use a particular frequency.
Why Can Two‑Way Radios Be Hacked?
Why are these types of security breaches occurring? "What's changed over the years is the availability of radios that can be programmed to police frequencies," Robert Geis, a retired New York police detective and amateur radio enthusiast, told The New York Times, after officers received death threats over police frequencies. "Twenty years ago, you had to cut a wire or clip a diode. It would open up the radios to go on frequencies they weren't intended to go on. Now, they come out of the box like that."
For officers and others in public safety and security who depend on their two‑way radios as a lifeline, the news that they can be hacked can be very disturbing. There's no magic formula, but even as hacking increases, the technology designed to keep frequencies secure and safe is evolving.
Tips for Preventing Two‑Way Radio Hacking
Equipment.

The type of equipment matters. A trunked radio system improves security. Ask your two‑way radio service provider to recommend the equipment with the best security features to enable secure conversations. Systems like Motorola's Starcom 21 feature the most up‑to‑date security features. Start budgeting for a more secure system now, to allow your department to be able to implement it in the future.



Encryption.

Seek out systems that meet the Advanced Encryption Standard (AES). These types of systems are becoming more common in police and fire departments that need to have secure conversions where only approved people can participate.


Training. A qualified two‑way radio service provider will provide all members of your public safety department training that allows you to maximize the safety and efficiency of your two‑way radios.


Vendor. When you're looking for a solution to address or prevent two‑way radio hacking, choose a two‑way radio provider with proven experience in this area. They should provide a list of references that they have helped with this issue specifically. These references can explain the benefits of switching from a conventional system to a more secure system, like Starcom 21. Your provider should also talk with you about your security needs to make sure you are investing in the best system to meet your specific needs.



Ensuring Secure Communications
Despite the danger of hacking, two‑way radio communications are still a safe, reliable, and efficient way to ensure public safety. But it's important to do all you can to prevent the dangerous disruption that results from hacking.