Illinois Statewide Starcom 21 Radio System
Starcom 21 is a statewide radio system located across Illinois. Owned by Motorola but directed through a user group Committee, Starcom offered the State of Illinois a communications system to replace their aged MA/COM EDACS System. The system offers ubiquitous coverage across the entire state. For most of the conventional Public Safety Agencies throughout the state, the radio systems they use are either local coverage to the town or regional coverage by County or selected communities.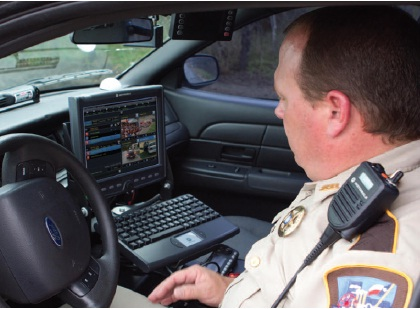 If you take a look at what is involved in a local agency's communications system you will find in its basic form a dispatch center's duty is to take calls and coordinate efforts to assist in the pursuit of "Public Safety". Whether that means a fire call, an EMS call or a Police dispatch, an action is needed to insure the Public is taken care of. In order to disseminate this information, there are various paths that a telecommunicator has to insure the message gets through. One, your
police radio system
, two, your CAD system messaging to the squads laptop and three the Public networks such as the cellular carriers. The typical communications system is a vast network of equipment, connections, people and federal governing agencies to make that simple push to talk and release to listen.
For some, this kind of vast network is the way you have communicated for years and it is the way you plan to communicate for years to come. If this describes you, there are public safety radio solutions to allow you to keep doing that. But if lack of funding, upgrade considerations or even frequency and licensing issues are problematic for your agency, maybe Starcom 21 is right for you. Solutions surrounding interoperability, grants, licensing and frequency are available to those of you with cut budgets and lack of personnel.
Here are ten reasons agencies should consider Starcom for public safety:
1) Reduction of capital expenditure in local and regional radio infrastructure. No need to invest in radio sites, antennas and lines when they are already in place.
2) Reduction of costs in leased telephone lines. Starcom diminishes the need to pay the telephone company to hook up your communications equipment from site to site.
3) Reduction of licensing issues. Licensing modifications and working with coordinators. Starcom is a digital system in which the licenses are already taken care of.
4) Fixed costs with Starcom. Systems in place, fixed monthly fees depending on coverage requirements. No maintenance charges and 24x7 monitoring of the infrastructure. Does your system have that?
5) System Upgrades with Starcom. As technology changes, you can be assured the Starcom system will have the latest upgrades for the fixed monthly cost.
6) Feature enhancements with Starcom. Similar to upgrades, if you decide to add additional features to your radios, it may be as simple as a programming.
7) Potential reduction in time expended by staff to maintain communications. How many of your officers are considered the "Radio Guy". Shouldn't they be the Officer, Fire Fighter or Paramedic?
8) Starcom is a radio standards based P25 solution allowing the potential interface with county and local systems. Local, Regional, State wide coverage with County level interoperability.
9) Secured communications. How many people with a scanner can listen to your conversations? In today's world of encryption and security, does that make sense to you?
10) Schools, Public Health, Public Works and Transit can all benefit, too! Starcom is not limited to first responders. It can be a mutual effort across all public servants.
Overall the decision is yours based on your directives, your policies and your ultimate commitment to public safety. Whether you want to provide a personal level of service to the community or a regional approach to leverage resources, you should consider all options. There are more reasons than these 10 I've stated depending on your agency. Look at where you are at, look at where you need to be and look at what we can offer.
This article was written by Tom Treichler, Director of Sales & Service at Chicago Communications. Tom has over 30 years of experience in the industry with a background in engineering, system integration, and wireless broadband.
If you have any questions for Tom, or another representative at ChiComm, please contact us.