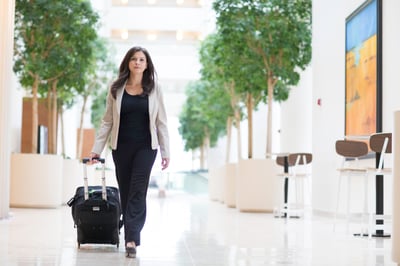 Guests expect it, and federal law surrounding protecting guests' safety and avoiding negligence underscore its importance. Here, we look at why hotel guest confidentiality is so important and how hospitality professionals can use communications technology to make it happen.
What exactly is hotel guest confidentiality?
Hotel guest confidentiality is a broad term, as it encompasses several aspects of the guest experience. In its simplest terms, hotels must protect the confidentiality of their guests' identifying information. This can involve everything from securing electronic reservation systems, to restricting room access only to guests, to checking the backgrounds of hotel personnel.
From a communications standpoint, it can involve providing secure WiFi, monitoring hotel areas to prevent trespassers and theft, and providing communications tools so staff can easily communicate across the property and respond to guest requests.
How communications technology can help
According to a recent survey reported in Hospitality Technology, more than 90% of guests indicate the ability to access WiFi is "very important." At the same time, 58% say having WiFi is highly likely to affect their booking decisions.
With the need to connect so important, it's equally important for that WiFi to be secure. Wireless networks use radio transmissions to carry data, so strong encryption is needed. Encryption uses ciphers to scramble data in such a way that only the legitimate end user can decipher it. Ensuring you're using the right encryption processes is imperative. Having the right equipment and safeguards can protect your guests from hackers and trespassers and can secure communications, elevating the guest experience.
Communications technology also comes in the form of video surveillance equipment. For hotel guests confidentiality, the use of cameras can be used in key areas, such as guest check-in, where credit card processing and other transactions occur. Constant surveillance over both staff and guests provides real-time footage of events, as an added deterrent against fraud and theft. Cameras can also be placed in lobbies, foyers, and hallways to monitor traffic and room access, providing an extra layer of precaution. They can also be used in open areas like pools and restaurants where guests may leave personal items unattended and may not be as focused or vigilant. Just knowing cameras are in place can also give guests greater peace of mind, knowing fraudulent activity can be tracked. This can go far in improving customer service.
Another technology used for ensuring hotel guest confidentiality is two-way radios. Two-way radios provide staff a way to communicate over a specific radio frequency, making them more secure than cell phones. Radios can be used by key staff at the front desk, in security, and in housekeeping, all areas that have guest interaction and access to guest information. Conversations can be had instantly, with push-to-talk technology that allows immediate connections. Staff can confidently relay directions knowing that conversations are private and discrete. They can also promptly follow through with guests' requests, reaching multiple parties at once. Two-way radios are also more reliable as they are capable of reaching areas where cell phones often cannot. This can be imperative for hotels on large properties or by water or mountains, where coverage can be spotty.
Ongoing evaluation
The need for hotel guest confidentiality will only increase as both technology and hackers become more advanced. Diligence in keeping up with the latest capabilities can ensure your guests remain happy and coming back.
To learn more about improving your hospitality technology, contact us. Also, download our ebook on the 2019 Hospitality Communications Survey, which reveals some of the latest communications trends in hospitality.