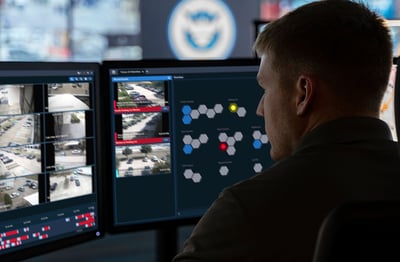 Does your staff spend too much time watching video surveillance footage? Do they have a hard time spotting safety issues? In some cases, security footage can be so cumbersome and overwhelming that no one reviews it on a regular basis, leaving an organization blind to threats or abnormal behavior.
If you answered "yes," it may be time to update your video surveillance system.
An Effective, Integrated System
The advances in video surveillance technology are helping organizations to stay safer with fewer security personnel by threading intelligence through every organizational role, technology in use, and connection point. Safety Reimagined, a Motorola solution, creates an integrated and intelligent security ecosystem, allowing people to work together more safely and efficiently. Safety Reimagined seamlessly integrates
Voice

Data

Video

Searchable analytics
Its technology allows for the efficient use of personnel, enhances safety and security, and enables individuals, businesses, and communities to work together in more powerful ways.
The Right Technology Makes All the Difference
Safety Reimagined is powered by Avigilon, cutting-edge technology that allows intelligence to advance outward, giving you eyes and ears where you've never had them before. Information can move where and when it's needed — from cameras to two-way radios, smart devices, machine sensors, alarms, and productivity tools. It can be accessed by security and operations centers, both on and off-site.
Customers appreciate the efficient and usable video surveillance data and analytics:
A reporting package that allows you to locate and jump to any date or millisecond of time
A smart data environment with analytics to search by multiple variables, including a person, what kind of clothing they are wearing, a place you know they were located, or a relevant object that might provide needed intel
Pinpoint streaming that goes right to what you are looking for
Color-coded programmable alerts so video reviewers have a precise focus of attention and the ability to review large amounts of footage quickly and efficiently
Streaming that scrolls to your actual points of interest
Adaptable to a wide variety of fields, including manufacturing, utilities, hospitals, hospitality, and more


A Thousand Extra Pairs of Eyes
Safety Reimagined uses multiple silicon screens for the fullest camera surveillance. If there's something going on in an area you want it to focus attention on, you can program it to search for that. It will appear in red or yellow or green on the screen, red being the most urgent or relevant data.
Obviously, you can't watch everything, or even close to the thousands and thousands of hours of video footage. But Safety Reimagined's color-coded, searchable alerts ensure that you are watching the things that need your focus at the moment. It's like extra eyes. A lot of them.
Let the System Do the Multi-Tasking
This is intelligence you can use. We're all busy. We need actionable information when we need it. Avigilon's video management software is extremely intelligent. It's self-learning. People whose job it is to monitor the camera surveillance feed have said it is fun and easy to use.
Here are some of the features of the safety system analytics:
Sends alert to the phone.
Captures cars, people, or objects.
Helps you track someone of interest over a period of time. You don't have to search thousands of hours of footage. Video analytics is an intelligent tool in the camera system.
It is selective and laser-focused, helping you feel more secure, knowing you are on top of your safety concerns.
A Real-Life Tool
Why is this advanced system helpful, or even necessary? Technology enhances your security and lets you get to the important work you do.
None of us want to live our lives in fear, but we can't close our eyes to the reality of the society we live in, where there are bad actors and bad behavior.
Technologies like Safety Reimagined are here to help people do their work safely and enhance the work environment. And we don't have to worry about technology replacing humans. These systems are only as good as the people who run them.
With a smart security system like Safety Reimagined, your team decides what is important and what to look for, and does the actual vetting.
The technology is vital for gathering, screening, and presenting information in an efficient, usable format. It streamlines the watching, keeps you updated with alerts, and empowers you to take any necessary action.
The future of safety surveillance is here, today.