A bi-directional amplifier, or BDA, can be one of the best investments for your business, facility or public safety agency, allowing you to say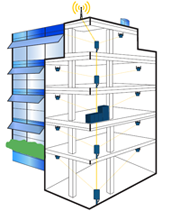 goodbye to dead zones for cell phones and radios, and hello to crystal clear calls and reception when and where you need it most.
As you're shopping around, it can be difficult to know exactly what options will best meet your needs, so here are some factors to keep in mind as you consider what to look for in a bi-directional amplifier.
Coverage Area and "Gain"
A BDA's coverage area is determined by the "gain" of the amplifier and the strength of the signal coming in from outside. The less powerful the signal in an area, the higher gain you'll need. BDA models offers a range of gain and coverage options.
Frequency Compatibility
Bi-directional amplifiers operate on a single frequency, and that frequency needs to be the same as the other equipment on your wireless network, such as radios and antennas. Before you buy, make sure the BDA you choose operates in the frequency range you're currently using.
Proven Reliability in the Challenging Environments You Most Often Face
Bi-directional amplifiers that are best for public safety or construction crews will have a proven track record in the widest variety of environments, from high-rise buildings to deep tunnels, and for withstanding the most duress, from high heat and humidity to chemical exposure. Many manufacturers and retailers have case studies available on the industries and situations where each solution has been used successfully, so ask for details to make an informed choice.
If your situation has a more limited and consistent coverage gap, for instance, if you're trying to boost cell phone reception to an underground parking garage, you can consider a less robust solution.
Compliance with Local, State and Federal Requirements
States and municipalities around the country now require buildings to either accommodate a certain level of radio coverage or be outfitted with a cable system or bi-directional amplifier to ensure that first responders can remain in contact during emergencies. Your local fire code will detail what specifications are required for your BDA.
Some places may also require BDAs to be registered with a local communications department before they're turned on for the first time. And depending on the kind of BDA, there may also be FCC regulations to consider. Your retailer or installation provider should be familiar with the requirements of your model.
To meet your needs for bi directional amplifiers, contact Chicago Communications today!