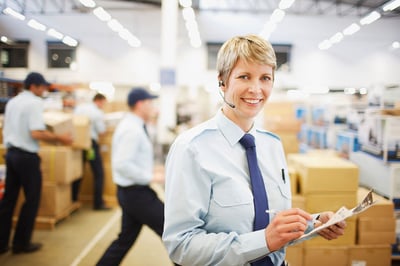 Pairing your two‑way radio with a Bluetooth headset is a great idea if you want to communicate untethered and hands‑free.
And it can't be that hard, right?
Well, it's not always easy, either. In this blog we've put together tips, tricks, and background information that has helped our customers pair their two-way radio with a bluetooth accessory.
Bluetooth Basics
It may be hard to believe, but Bluetooth technology has only been around since 1994. It was created by the Dutch inventor Jaap Haartsen and developed by Bluetooth Special Interest Group.
It uses UHF radio waves to transmit data wirelessly for short distances, generally up to 30 feet. It uses the same frequency as cordless phones and WiFi routers.
The name Bluetooth comes from the Danish King, Harald Bluetooth, who brought warring factions together.
In the same way that the old king brought together different Danes, Bluetooth is uniting printers, speakers, headsets, microphones, and now two‑way radios.
Two‑Way Radio Accessories
There are plenty of reasons why people might want to use a Bluetooth headset with two‑way radios.
Public safety workers need maximum flexibility, and people working in manufacturing facilities shouldn't have to worry about stepping around cords. Education staff and administrators, hotel front desk personnel — all of these people are good candidates for using a Bluetooth headset because it enables them to step away from the radio and still stay in touch.
These days, the majority of Motorola's two‑way radios are Bluetooth enabled. Many of the MOTOTRBO™ radios, for example, are capable of pairing with a headset. A good number of these devices can operate 30‑50 feet away from the parent device.
But just because something is capable doesn't mean you can just take it out of the box and use it.
There's a bit of programming that your two‑way radio service provider needs to do first, to make your pairing work.
The Art of Pairing
Non‑display radios are a little tricky this way, because there's no screen. In those cases, the radios have programmable buttons that we can assign: Bluetooth connect and Bluetooth disconnect.
The Bluetooth‑capable two‑way radios with displays are a little easier. Many of us have paired a Bluetooth printer or speaker, and it works just like that. You just access it through the menu of the portable radio.
Then press the button that says "find devices" and go from there.
But, the service provider still needs to activate Bluetooth before it will work.
Your Friend, the User's Guide
Your two‑way radio provider can talk you through how to pair your device.
Motorola's website has great information on Bluetooth accessories. Some of them are specifically designed for police officers, maintenance workers, or first responders.
There are YouTube videos galore on pairing devices, because it seems like everyone's doing it.
And don't forget your portable radio's user guide: It does a fantastic job of talking you through the pairing process in a logical way. Sometimes I'll print out just the Bluetooth section and share it with people who are trying to figure it out.
If you buy a Motorola accessory that is Bluetooth enabled, the company provides a handy booklet that will help you with the pairing process.
It might be a little confusing at first, but once you get it, it usually works out for people.
Compatibility Matters
If you plan on using a Bluetooth Headset in your work, your two‑way radio service provider can make sure the devices are going to get along. To pair properly, the two‑way radio needs to
Use Bluetooth 4.0 (the latest version, and the one that comes with the latest Apple products). Your two-way radio maintenance provider can make sure your devices are set up for Bluetooth capabilities.

Use push‑to‑talk technology. This allows you to talk to someone with the push of a button.


Don't Forget to Charge
Some people are hesitant to try Bluetooth because they already have to worry about keeping so many devices charged.
But for others, Bluetooth is necessary, and charging that headset is just part of their routine.
On average, the batteries should stay charged from 8 to 10 hours, sometimes up to 20, so it probably won't inconvenience you too much, if you get in the habit of charging it when you're not working.
Worry Less and Communicate More
We all have enough going on these days. We shouldn't have to worry about something like Bluetooth pairing. Luckily, there are a lot of resources out there to help us all figure it out.
My main piece of advice is to plan ahead. If you are shopping around for two‑way radios, be sure to let your account executive know that you plan on using Bluetooth accessories.
With their help, you can eliminate frustrating experiences and get moving — and talking.