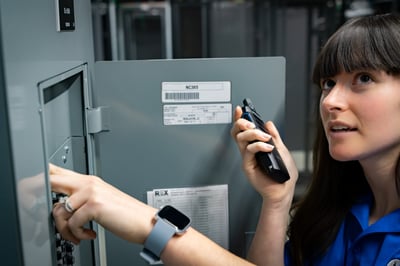 For professionals in manufacturing, hospitality, transportation, public safety and other commercial industries, effective voice communications and broadband capabilities are essential. This often means more than what is available through personal devices or private mobile radios. To meet this demand, Motorola Solutions has introduced Mototrbo Nitro, an end-to-end enterprise communications solution with premium voice capabilities and lightning-fast private broadband data.
The first fully managed solution for business-critical voice and broadband data stands out for four reasons: Improved voice technology, fast broadband, use of CBRS (the Citizens Broadband Radio Service), and greater management and control.
Improved voice
MotoTrbo Nitro delivers crisp voice quality and comprehensive on-site coverage. With the new technology, users gain highly reliable broadband push-to-talk capabilities, and can have voice conversations that sound clear and natural. MotoTrbo Nitro is also a private broadband data network so voice conversations will remain secure.
In addition, MotoTrbo works with all devices—from radios and smartphones to specialized handsets—and extends existing voice networks to support multiple data applications, including security, productivity, warehouse ticketing and customer service apps.
Faster broadband
MotoTrbo features better indoor coverage for voice and data, enabled by fast private broadband data at twice the capacity and up to four times the range of Wi-Fi. This allows teams to share information quickly and efficiently. They can also access information across operations with fewer access points.
The enhanced Wi-Fi also allows users to add more devices to the network without being constrained by slow speeds or low bandwidth.
CRBR spectrum
The technology is the first of its kind to work on the CRBR network. For users, this allows for simple deployment and management of their radio network and it addresses the market need for a customized private network that delivers both voice and broadband data.
Experts quoted by Motorola Solutions report that by "leveraging the flexible managed new spectrum available with CBRS to create a cloud-based broadband land mobile radio system," the technology gives enterprises the benefits of trusted push-to-talk functionality and a comprehensive private LTE data network.
Motorola Solutions defines CBRS technology as a "game-changer for commercial enterprises – enabling secure, private data networks that will drive workforce productivity, efficiency and safety."
Management and control
MotoTrbo Nitro also gives users full control of their network through the Nitro portal. The portal is a cloud-based tool that lets users run network diagnostics, set up talkgroups, add users, and push device updates from anywhere. The cloud-based infrastructure means setup is minimal. There is no hardware required and it is offered as a service, so there is no complex installation or large capital investment.
MotoTrbo Nitro can be an effective, mission-critical solution for the manufacturing, hospitality, transportation, public safety and other commercial industries that can bolster the secure communications equipment already in place. It can be easily set up and installed, giving organizations secure, enterprise-grade broadband with consumer-grade usability.
To learn more about bringing the performance of MotoTrbo Nitro to your organization, contact us for a free consultation.