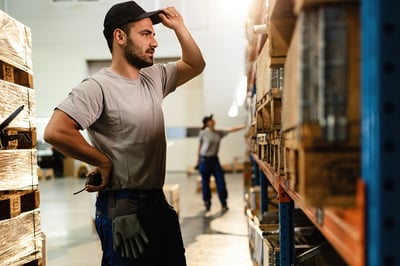 Tight budgets and funding challenges are a reality for most businesses, schools, healthcare facilities, and public safety organizations.
But so are the increasing communications needs of these organizations — both the immediate, nonnegotiable technology needs (such as two-way radios) and the greater need for communication solutions that integrate various technologies into a smart, efficient system.
A Purchasing Catch-22
It's a catch-22 for organizations. You need radios, but you'd also like video surveillance, maybe weapons detection too. GPS tracking, weather alerts, and other technologies would be optimal, as would interconnectivity. This is what we call a holistic communications ecosystem solution. But maybe you don't have the budget to meet all those higher-end needs, so you opt for the low-end radios you can afford today. Or maybe your need is now but your budget is frozen until at least the next fiscal year.
The issue becomes whether to wait until there are resources to buy the radios or systems you really want, that are capable of meeting your needs down the road, or to buy the basics that you need and can pay for today. The problem with buying lower-end technology — and we always talk to our customers about this — is that those radios can't be upgraded or expanded to integrate with higher-end solutions that meet more sophisticated needs. Those basic radios will need to be replaced in the near future to be fully operational with more capable systems purchased later. Or you will end up with multiple radios in use and redundant costs and systems. The waste factor is troubling, but so is a school without even the most basic radio communication.
Buyer Beware
The biggest issue with lower-tier technologies, especially radios, is quality. Their components are shoddy, the battery life is not there, and the warranty is not there. A lot of distributors and manufacturers are Internet-based; they don't offer reliable assistance or service, or any service at all in some cases. You need skilled and experienced technicians to be available from system setup to service. You want a full-service provider to help you create and maintain your communications ecosystem. The product may cost more, but it will pay for itself. It will do a quick ROI (return on investment), sometimes in as little as 6 months.
Quality Counts
There are many cheaper two-way radios available in the commercial market, and some may seem attractive based on their lower price. Beware of cheap imitations and poor service records. Case in point: A school system with multiple campuses spent a six-figure amount on a communication system with two-way radios manufactured by Hytera. The components were cheap imitations illegally copied from Motorola radios, and when they broke, there were no replacement parts available to repair them. Hytera has been issued a cease-and-desist order by the International Trade Commission as a result of the company's infringement of Motorola Solutions patents. The school system thought it had a low-cost communication solution, but it bought an inferior product that will need to be replaced.
Seamless Communication Is Worth Paying For
There's only one system that fully integrates voice, video, data, and analytics into a single platform: the Motorola Safety Reimagined system. When communication is slowed down by systems that are not fully aligned, business and safety can suffer. That's where a system like Safety Reimagined is the best, not the budget, solution. The software that ties all the disparate elements together is called Orchestrate. It's cloud-based software that provides hospitals, schools, manufacturing facilities, and any others with seamless communication. Orchestrate can automate workflows, manage operations, configure technology, and control a security ecosystem. It doesn't replace humans, but it creates a holistic communication environment, using artificial intelligence to better manage a security technology ecosystem.
Take, for example, that multicampus school environment. They would best be served by a comprehensive system like Safety Reimagined, with cutting-edge ion radios (with all-on voice and broadband data capabilities), video cameras and more, integrated by Orchestrate software. The school system with Safety Reimaged would have extensive capabilities, including:
Cross communication — the ability to communicate within and between schools

Video surveillance linked to two-way (ion) radios

Weapons detection so advanced that it can even detect parts of a dismantled weapon

Markers that show the face and clothing of people scanned at entry points, making them trackable

Weather/active shooter/man down alerts

Direct system-wide communication with first responders in case of emergency

One go-to person for any and all systems issues or repairs to devices
A low-cost communication solution would not meet the school system's current needs (low-cost radios can only communicate), let alone be able to grow with them as technology advances. For businesses, the benefits are similarly comprehensive, but add to this the radio's ability to act as a built-in barcode scanner, which can be used for multiple warehouses. A company can achieve enormous efficiency when it can send a pallet right off the delivery truck to, say, aisle 214. You won't need a separate scanning gun. You don't need a phone. Your two-way radio has it covered. One piece of equipment does it all.
Lease or Let Us Manage It
Now, back to the budget situation. Either you have the money to go for higher-end equipment or you don't. Either you can afford an integrated system or you have to settle for lower-end radios, right?
Not so.
Chicago Communications has ways to help you get the communication capabilities you need without breaking the bank.
Leasing
If you want to upgrade your communications equipment but are worried about a large up-front expenditure, leasing might be the right choice for you. Chicago Communications has a fruitful partnership with Lease Corporation of America (LCA). This company works with resellers, distributors, and manufacturers to offer financing to customers seeking affordable options for equipment purchases and upgrades.
Leasing provides maximum flexibility and ROI because you start using the equipment right away. Some other reasons to choose two-way radio leasing include:
Preserved credit lines. Unlike a loan or credit card purchase, a monthly lease payment does not affect your bank or credit lines.

Flexibility. An account executive can customize a lease to fit your needs, including deferring payments for up to 90 days, a step program, or 0% interest.

Fixed payments. Lease payments are fixed and do not vary with changing interest rates.
Managed Services
Chicago Communications has another plan that a lot of customers are discovering called Managed Services — it's a leasing program, but you don't own the equipment (or the headaches). Radio technologies are getting even more complex, and keeping them operational and integrated, replacing batteries, and managing repairs can overwhelm the demands on your IT department's time, budget, and people. Managing a wireless network is a big job. Why not let us help? We provide technical expertise and vast experience, and you get the peace of mind.
Whether you're in public safety, schools, business, or healthcare, the benefits of having Chicago Communications manage your technological services are clear:
Make your costs predictable. Simple monthly payments without a large outlay upfront.

Offload some or all of the responsibility (and risk) of managing, maintaining, and upgrading your system. We monitor the batteries and replace them. We do the system updates. We are the two-way radio experts. You can rely on our state-of-the-art equipment, repair facility, help desks, and field support organizations. Make our Support Centers part of your team.

Get the highest-functioning system, tailored to your needs. We have the engineering knowledge to design, build, upgrade, expand, and maintain mission-critical networks.

A single go-to team of experts with decades of experience. We build and operate some of the largest, most advanced wireless networks in the area. We understand the newest and best solutions because often we're the ones who installed them.
With Chicago Communications Managed Services, you can ensure the high-quality communications you need, without breaking the bank or distracting your people from their work. A win-win for organizational efficiency and safety, productivity, and resource allocation.
To get expert assistance building or upgrading your communication system, contact Chicago Communications today!