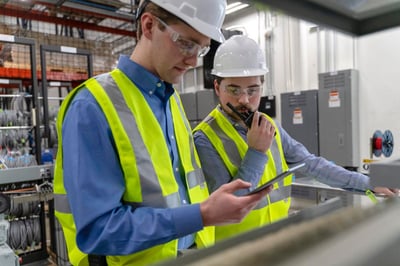 It sometimes surprises us that more customers don't take advantage of opportunities for two‑way radio leasing, given the convenience and flexibility it offers.
If you are curious about upgrading your communications equipment but worried about a large up‑front expenditure, leasing might be the right choice for you.
What about renting? For some customers, two‑way radio rentals make sense, especially for charity outings, sporting events, or corporate meetings.
But for affordable, longer‑term solutions, let's talk about how two‑way radio leasing works, and what customers need to know before making a decision.
Introducing Our Partner
Chicago Communications has a fruitful partnership with Lease Corporation of America (LCA). This company works with resellers, distributors, and manufacturers to offer financing to customers seeking affordable options for equipment purchases and upgrades.
Lease Corporation of America offers same‑day approval for up to $150,000. It also provides flexible terms, with 24‑60 month financing periods. And they make it easy for the customer by gathering all the e‑signatures and documents needed to complete the lease.
The leasing entity has handled financing for wireless technology for businesses, municipalities, and educational and public safety entities around the US.
That's why we trust them to do business with us.
What Do You Need to Have to Obtain a Lease?
According to LCA, you need to
Be a registered/licensed commercial entity in good standing
Submit a simple credit application to the Credit Department
Have an acceptable credit history
Acquire the equipment from a commercial entity in good standing, such as a licensed two‑way radio provider


Why Do Customers Choose Leasing?
Some businesses and public entities are looking to purchase or upgrade their two‑way radio equipment without a large up‑front expenditure. Leasing provides maximum flexibility and Return on Investment (ROI), because you start using the equipment right away.
Some other reasons why people choose two‑way radio leasing include
1. Preserved credit lines. Unlike a loan or credit card purchase, a monthly lease payment does not affect your bank or credit lines.
2. Flexibility. An account executive can customize a lease to fit your needs, including deferring payments for up to 90 days, a step program, or 0% interest.
3. Fixed payments. Lease payments are fixed, and do not vary with changing interest rates.
When Leasing Makes Sense
There are really few drawbacks to choosing leasing for your two‑way radios. I call leasing a "no brainer."
Leasing is ideal for the customer that needs a two‑way radio system now — but needs to pay for it later.
Customers pay a very low interest rate, or no interest rate, depending on the offer available.
Many public safety entities appreciate being able to acquire the products immediately and pay low monthly payments.
For example, if a customer is upgrading their system, they can complete the upgrade within their timeframe, without waiting for a budget or funding process.
Some budget processes can slow down a purchase that can really make a difference in providing essential communication services, so you really don't want to wait.
A Motorola Package
Leasing Corporation of America has been financing Motorola products since 1995. As a result of this long relationship, they offer some special financing terms for Motorola products. These rotate monthly, and offer some affordable options, such as 4.9% financing for 36‑60 months and $99 payments for the first 6 months.
I love being able to share these offers with people who need to be cost conscious and also look toward the future of their communications technology system.
When I work with customers who are interested in two‑way radio leasing, I explain how simple it really is. We talk about their equipment needs and their financing situation, and we help design a specialized lease that meets their needs.
And it always includes the top‑notch service, installation, and training costs that Chicago Communications is known for.
And we're around to answer questions, and walk people through all the steps.
It's a package deal.