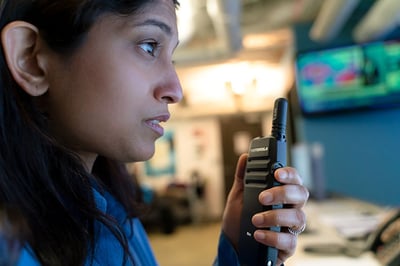 In today's interconnected world, some folks assume that it's easy to tie together WiFi, video, and two‑way radio communications.
Not quite.
The world is changing, and some communications systems can do that — but not all of them. There's actually only one system that fully integrates voice, video, data, and analytics into a single platform: the Motorola Safety Reimagined system.
Tying It Together
If your communications system is outdated or siloed, you might encounter problems communicating across multiple channels in response to a security, or operational threat.
I meet customers all the time who bring in several different vendors to handle different components of their system. I worry that they're compromising efficiency, productivity, and safety by doing it that way.
Safety Reimagined is what is known as an "integrated ecosystem" that is managed by a single, trusted service provider.
Orchestrate Provides Instant, Seamless Communication
When communication is slowed down by systems that are not fully aligned, business can suffer. When it comes to public safety, delays or dead spots can be a matter of life or death.
That's where a system like Safety Reimagined becomes a mission‑critical necessity. The software that ties all the disparate elements together is called Orchestrate. It's cloud‑based software that allows hospitals, schools, manufacturing facilities, and any other place that might face threats to receive alerts from an access control system.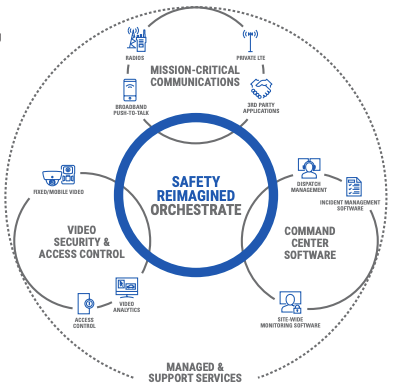 Orchestrate also can automate workflows, manage operations, configure technology, and control a security ecosystem. It doesn't replace humans, but it does automate certain elements using artificial intelligence to better manage a security technology ecosystem.
No Copycats
Safety Reimagined is the only solution out there that can seamlessly tie together all these elements. We might be biased because we are a licensed Motorola dealer. But honestly, Motorola is so good at what they do that in 2017, the Chinese company, Hytera, had to pay $764 million in damages to Motorola after a jury determined that the company had stolen trade secrets. Hytera's two‑way radios and repeaters were made using stolen intellectual property from Motorola.
The biggest lesson: Buyer Beware. Many foreign manufacturers are trying to enter the US market at lower price points. And they make a lot of claims. But we all need to do our homework in order to avoid compromising quality.
Example: Hospital Security
Let's imagine a worst‑case scenario where a hospital experiences a security threat in an area that doesn't have uniformed security personnel; security personnel can't be everywhere at once.
A threat captured on video would trigger alerts to two‑way radios so security staff can respond.
Here's how this technology works to address potential security threats:
1. Detect. Monitor and identify threats.
2. Analyze. Recognize and evaluate dangerous situations.
3. Communicate. Connect workgroups that need to respond.
4. Respond. Rapidly respond and document issues.
Collaboration for Safety
Cities, businesses, schools, and institutions are safer when people work together in conjunction with technology. That's why so many leaders are choosing to implement these types of ecosystems to streamline and ensure that everyone works at their full capacity.
Employees feel secure and supported, and threats are minimized when resources are aligned.
Customize for Your Situation
Everyone has different security and communications needs.
One of the best features of Safety Reimagined is the fact that it is modular and customizable. Two‑way radio service providers discuss clients' needs and help them choose solutions that work for them.
It's comforting to everyone to know that there's a communications ecosystem designed specifically for safety.
The key to all of this is the system's unique ability to tie together all the disparate elements: WiFi, video, and two‑way radios.