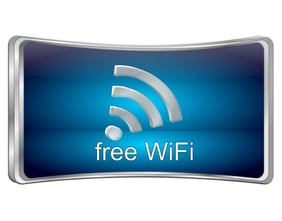 Where would we be without WiFi? It seems as if it would be nearly impossible to function at the same capacity and speed without it. We've even come to expect accessible networks to exist everywhere. Pretty much any place that has moments where you are required to wait, i.e. coffee shop, airport, even a doctor's office, we almost naturally urge to connect to the local wireless network. Wireless networks' ability to instantly connect us to the internet has made us more dependent than ever on this ever-changing and constantly growing technology.
Wireless Networks Need to be Protected
Does this demand for wireless networks come at a price? Since it is pretty inexpensive to set up a network and provide WiFi, these public hotspots make us vulnerable to threats. Wireless networks that are publicly accessible allow anyone in range of the hotspot to use its service, with good or bad intentions. Although most users believe that they have safe internet practices to protect their online identity, hackers are becoming smarter and public networks are the ideal servers for compromising your data and accounts without you even realizing it.
While we cannot determine the motives of others using the shared network, as individuals we can work to protect ourselves online and network hosts can secure internet connections for added safety. Being aware of this possibility is equally as important for the individual user of the WiFi as well as the provider of the service.
When using public WiFi, securely navigating public networks should be your top priority. The convenience that WiFi provides is indispensable but sacrificing security for connectivity has its consequences. Large, public networks can potentially make you susceptible to fraudulent activity. Being aware of your surroundings and connection significantly helps protect your personal and confidential information from being intercepted.
How to Secure Your Network
If you are the provider of public WiFi, the best way to protect your WiFi users is to protect your WiFi. Using a secure network reduces the likelihood of a hacker to successfully steal individuals' identities or breach your organization's data. This extra precaution is simple and helps provide a sense of comfort while using the network. By merely using encryption and firewalls you can protect those on your network. Especially if you are supplying a large area with wireless connection, do your best to ensure that those connected to your server have some form of protection online.
What does 'WiFi' stand for? Find out here!
Considering an updated wireless network? Chicago Communication offers superior wireless networking solutions that provide comfort online.