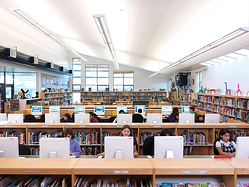 In the not too distant past, administrators and educators didn't have to worry about things like connecting students and teachers to school WiFi – school supplies came in boxes and filmstrips were considered high-tech.
When computers and other technology did initially become available, they were shared by students, teachers and administrators alike in group computer labs, and getting time on a computer was a challenge.
Today, of course, it's hard to imagine educational settings without individual access to computers, tablets, laptops and lightning fast school WiFi. It's worth taking a closer look at the critical role technology in schools plays, from school safety to campus communication, and how your campus can stay connected.
Wireless Networking on a Budget
School administrators are juggling educational requirements, school security, safety in schools as well as connectivity issues – all on a budget. Fortunately, by working with the right wireless communications partner, there are ways to handle the latter effectively and economically.
The cost of expanding an existing wired network can be cost-prohibitive for many districts, particularly those that are smaller in size. As a result, a growing number of school districts are using wireless technology as the solution.
Wireless broadband technologies, point-to-point, point-to-multipoint and mesh solutions can ensure that every classroom, student and administrator has access to the best connectivity for their area.
Communications on the Go
Wireless broadband offers reliable high speed WiFi connectivity both on and off campus. Many school districts can extend the school day, when necessary, by extending the WLAN to school buses.
Thanks to the extended connectivity, rural students, as well as athletic and academic teams, can use the buses as mobile classrooms.
Some benefits of wireless on the go include:
Students and staff are able to access emails and internet via their smartphones and other mobile devices
Maintenance personnel and transportation managers can be made aware of emergency situations immediately, no matter where they are
Wireless networks provide GPS tracking of school buses to enhance school bus safety
Video surveillance of campus buildings, parking lots and athletic fields can be installed to monitor the activities of students and visitors.
Two-Way Radios as a School Security Tool
Across the board, when it comes to school security, more districts are deciding that two-way radios are a better choice than cell phones, in large part because of their key role in school safety.
In addition to their durability and reliability, radios are built with the needs of education in mind, and device manufacturers such as Motorola even conduct annual surveys of teachers, administrators and managers to assess their needs and priorities.
In one Motorola survey, 99 percent of administrators, maintenance staff, teachers, transportation directors, and others listed their top priority as keeping students safe and secure.
Overall benefits of digital two-way radios over cell phones for education include:
Instant one-to-many communications
Radios can be used while driving
Greater reception and reliability
Longer battery life
Lower long-run cost
If you've ever wondered what WiFi stands for, find out here!
This article was written by Helen Strecker, Helen has worked at Chicago Communications for 9 years. If you have any questions for Helen, or another representative at ChiComm, please contact us.