Enhancing safety in schools is a challenge that requires a range of solutions, from changes in behavior to advancements in technology in schools.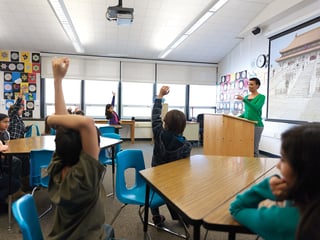 Given the budgetary concerns facing campuses large and small, it's important to invest in technology for school safety that's both effective and cost-effective.
As you're researching solutions for your own school, district or campus, here are our top tech tools to enhance safety in schools.
Two-Way Radios
Two-way radios are at the top of our school security list because they provide life-saving communications capabilities, even on a budget and even if the rest of your school technology isn't as modern as you'd like.
More districts are discovering that radios are more reliable than smartphones, offer greater range, enable push-to-talk, one-to-many connections and don't require monthly service fees. And for staff on the go, mobile radios enhance school bus safety as well.
If you're frustrated with dropped calls and spotty reception, it's time to consider the benefits of two-way radio.
Radio Applications
Teldio and other Motorola partners have applications built with campus communication and security in mind.
Application features include:
Seamless connection of two-way radio and non-radio users on and off campus
Automated alarm notification
GPS
Instant contact with emergency personnel
Video Surveillance
Video cameras in schools are nothing new, but as the technology evolves and security concerns change, it's a good idea to either gradually replace an aging fleet of cameras or upgrade.
Axis network products offer features such as high-resolution video and video encoders that convert analog signals into digital streams that can be transmitted over LAN, internet or intranet.
Better Connected and Safer
Technology in schools won't solve every challenge associated with safety in schools, but it's a key piece of the puzzle. Having the right tools can lead to other changes that make communication easier and campuses safer.
To get a free estimate on the best communications solution for your school or school district, contact Chicago Communications.