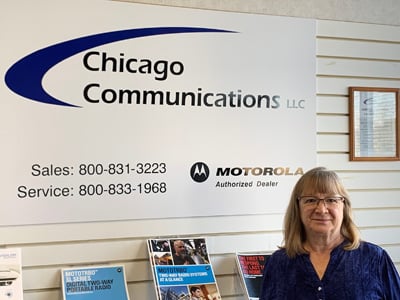 If you need communications equipment for a special event or engagement, ChiComm's Diane Dupasquier can set you up. As the Rental Sales Representative for over 20 years, Diane is the go-to expert for renting two-way radios and repeaters, supplying organizations and corporations with quality communications for any job, any occasion.
Originally from Canada, Diane began her tenure with Chicago Communications in 1993 in the paging and cellular division. After doing inside sales for a number of years, she ultimately became the rental manager—a "one-woman show" for the entire rental program, along with sales demo equipment and communications devices for staff.
Diane says her favorite thing about working for ChiComm is getting to meet and work with a lot of different people. "Whether they're doing charity galas, 5ks, or corporate events, I like helping them determine their needs and supplying them with the right tools to help their events be successful."
Indeed, Diane is an expert at asking the questions customers may not have thought of and ascertaining the scope of the event and the right equipment for the job. She says sometimes the customer knows exactly what they need, while other times, they are not as knowledgeable. But either way, she's happy to help.
One event she's especially proud of is working with the Obama Administration on two occasions. The first time, the Obama campaign called ChiComm at the last minute for a rally they were holding in Indiana, and the second time they needed radio security for a Whistle Stop event on their way to the inauguration. "It was exciting to be part of that," she says.
She says one of the interesting things about her job is seeing what is returned in the boxes with the rental equipment. In the case of the Obama Administration, the team included a lapel pin of the presidential/vice presidential inaugural seal.
After their event, the Art Institute of Chicago returned a bunch of umbrellas and rain ponchos featuring the Art Institute logo. "They said to go ahead and keep them," she says. "But it's funny to see what comes back."
When not at work, Diane enjoys spending time with her friends and life partner Marty. She enjoys hiking, entertaining and playing with her new puppy, a Cavapoo named Maggie May. She also loves to travel, and her recent trips have brought her, Marty, and the new puppy to Canada, Florida and North Carolina. The three things she can't live without: Love, friends and family.