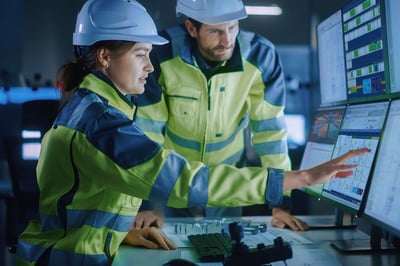 You're an IT or system administrator in, say, healthcare, business, hospitality, or education. You have a good two-way radio system, and everything seems to be going okay, but you want to do your due diligence. You want to check how well your system is operating before anything goes wrong. To understand how it's being used and where the choke points might be. You want data—and the ability to analyze and use that information to maintain and improve your radio system.
That's where Genesis GW3-TRBO comes in. It's an integrated software solution that allows for centralized management of all radio system–wide activity. It sends critical notifications and archives data for forensic reporting on all MOTOTRBO platforms. In short, it provides the actionable information you need to make informed real-time decisions and effective budget plans.
Check the Pulse of Your Radio System
When you put in a new system, it can be hard to anticipate usage during peak times, for instance, or certain user interface issues. The last thing any business wants is to be unable to connect during daily operations, or worse, in an emergency when communication matters most.
GW3-TRBO provides centralized, actionable information that enables you to quickly make important decisions about the health of your system. Its straightforward interface keeps you up to date about how your system is being used and provides instant access to critical details and analytics.
Case in Point: A company with several locations had one facility struggling with system "busies" and could not figure out why. From the company's headquarters, corporate IT was able to log into their centralized GW3-TRBO browser-delivered dashboards to drill down into this particular site. They saw that usage was higher than expected, even though no major events had occurred.
After running GW3-TRBO reports, they discovered that a handful of users were overloading the system with extra-long conversations. The Activities by Radio Over Time report highlighted the top users for the local system administrator, who determined that it was a training issue and quickly retrained the users.
Knowledge Is Power
A well-managed radio system requires proactive system planning for capacity to ensure minimal downtime. It's important to know when your busy times are, how individual units are performing technically, and which radio users, talkgroups, and channels are the most or least active. Departments and Corporate will want this information for planning and budgetary purposes. Reports can be detailed and customized to suit specific needs.
Without the information from GW3-TRBO reports, a system administrator is more or less in the dark about what's actually happening and unable to provide data and analytics to troubleshoot current issues and plan for the future.
Case in Point #2: A few of a company's user groups reported experiencing "busies" during the first few hours of the workday. With this information, the system administrator ran a GW3-TRBO System Diagnostics report to analyze activity from the preceding week. The report confirmed that during that same time frame each day, two of the four repeaters at their site were reporting FCC interference, essentially removing half of their expected capacity.
The historical data provided in this report pinpointed exactly when the interference reports started and stopped each day. With some basic sleuthing, this allowed the culprit to be identified as a new building site near their radio tower, where work crews were illegally using the company's frequencies.
Bang for the Buck
When you're investing in a two-way radio communications system, it makes sense to get the most out of it. Genesis GW3-TRBO helps system administrators maximize their company's investment—and effectively and efficiently manage their radio systems. With precision reporting, administrators can pinpoint and resolve real-time problems through historical data and analytics. Importantly, GW3-TRBO also makes it possible to report out actual usage and forecast future needs and improvements.
To get expert assistance building or upgrading your communication system, contact Chicago Communications today!