Each culture of two-way radio users has its own radio lingo: Public safety and the military have ten codes and the phonetic alphabet, and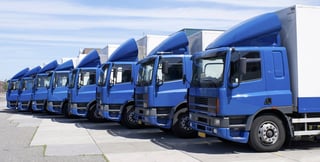 truck drivers have perhaps the most colorful sub-language with CB radio lingo.
Popularized by TV shows and movies of the 1970s and 1980s – "Smokey and the Bandit," anyone?– ­CB radio lingo is still used by truckers today and continues to evolve.
Here are some of the most common rated PG examples of CB radio lingo (remember that we said it was colorful).
Law Enforcement
Advertising: a marked police car with its lights flashing
Bear/Smokey: police officer; refers to the fact that the Smokey Bear character created by the Ad Council wears a hat similar to those of many highway patrol officers.
Camera: police radar unit
City Kitty: local police officer
County Mounty: county sheriff or deputy
Evel Knievel: police officer on a motorcycle; named for the motorcycle stuntman.
Locations
Big D: Dallas
Derby City: Louisville, Kentucky
Mardi Gras: New Orleans
Mickey Mouse: Orlando, Florida
Windy City: Chicago
Life on the Road
Alligator/Gator: large piece of blown-out tire on the road
Go-go Juice: gasoline or diesel fuel
Nap Trap: hotel or rest stop
Vehicles
Bulldog: Mack road tractor
Four-wheeler: any vehicle with only 2 axles; anything that isn't an eighteen wheeler/semi truck
Kiddie car: School bus
Pete/Peter Car: Peterbilt truck
Salt Shaker: snow plow
10 Codes & More
Truckers also have their own versions of 10 codes, some of which have the same meanings as law enforcement and others all their own. "10-4," for example, tends to universally mean "I understand."
As with any new language, if you're new to the two-way radio world, you'll want to listen for a while to understand nuances and context before you jump into the conversation. That goes for CB radio lingo, too, for anyone ready to hit the open road.
To get a free estimate on the best communications solution for your agency or business, click here.