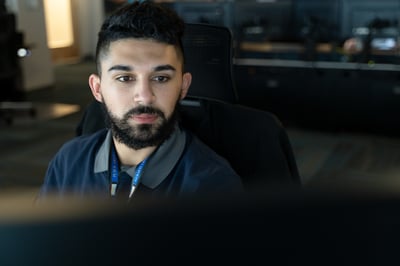 In a 2006 article in The Clinical Biochemist Reviews, Dr. Enrico Coiera wrote, "Indeed if information is the lifeblood of healthcare then communication systems are the heart that pumps it. Yet, while there is significant discussion of, and investment in, information technologies, communication systems receive much less attention."
Though technology has evolved rapidly since that article was published, healthcare communication systems are just as important as ever. While hospital apps and patient portals improve users' experiences with their healthcare providers, staff‑to‑staff communication is essential to providing top‑notch care in a timely manner.
Below, we review why off‑site communications equipment is necessary and how to find the best equipment for your organization's off‑site communication needs.
Why healthcare systems need off‑site communications
Hospital staff travels off‑site for a variety of reasons, most notably for community work and large‑scale emergencies.
Medical staff often work in patients' homes or commute back and forth between the hospital and off‑site clinics. Some even report to schools, nursing homes, or other facilities out in the community. For safety and continuity of care, these staff members must be able to communicate quickly, reliably, and confidentially to their team members.
Communication, and particularly off‑site communication equipment, should also be part of your hospital's emergency preparedness plan. Independent healthcare nonprofit ECRI reports that FEMA declared 1,451 emergencies between 2007 and September 2018. The coronavirus pandemic is also a unique, unprecedented emergency that requires more off‑site work from nurses and physicians. The Centers for Medicare and Medicaid Services has waived several regulatory requirements to allow for field hospitals, more off‑site care, and even parking lot testing sites for COVID‑19.
What equipment works best for off‑site communications?
At Chicago Communications, we often recommend Motorola TLK equipment for off‑site communications. That's because this line of equipment provides fast, secure coverage in a variety of off‑site situations—home healthcare, off‑site clinics, outdoor COVID‑19 testing, and local or regional emergencies.
Regardless of whether your organization uses Motorola equipment, these are the most important features to consider when choosing an off‑site communications solution.
A Fast Connection
In emergency situations, you don't want medical staff roaming a building or parking lot trying to find a strong signal. Off‑site communications require a fast, accessible long‑range connection. Consider equipment that can connect to WiFi or tap into a regional LTE cell service.
Rugged durability
At first, some off‑site staff members might prefer using their personal cell devices. Aside from the issue of patient confidentiality, personal devices pose a durability problem. Professional off‑site communications solutions should be able to withstand heat, cold, and inclement weather (especially when the equipment is being used during natural disaster emergencies). Look for airtight weatherproofing. It's also helpful to use equipment without glass screens that could shatter.
GPS Location Tracking
While location tracking isn't necessary for every scenario, it can be helpful when deploying medical teams out into the community. Disaster relief is faster and easier when everyone on the team knows where to find their counterparts.
Let's talk TLK
Are you considering Motorola's TLK equipment for your off‑site hospital communications? Here is a snapshot of how the TLK equipment stands up to the challenges of off‑site hospital communications.
Ease of use.

The slim, durable

WAVE Two‑way Radio TLK 100

weighs less than 6 ounces. Medical staff can carry it easily from location to location with no worries about how it will stand up bad weather. The long‑lasting battery (18 hours) will take staff members through their entire shifts.

WiFi connectivity.

Over‑the‑air device management allows leaders to easily and quickly communicate updates to the team. You can also modify talkgroups remotely in real time.

Private call capabilities.

Though the TLK 100 is a two‑way radio at heart, you can change settings to toggle between private and group conversations. Patient confidentiality is crucial in a healthcare setting. So is safety. Effective off‑site equipment facilitates both.

GPS tracking in select models.

The

TLK 100 GPS Location Tracking

helps you maximize safety, check project status, find faster routes, modify tasks, and position team members where they're needed most.



Now more than ever, hospital officials must maintain day‑to‑day communications and keep an eye on the evolving health crisis while remaining prepared for future emergencies. To find out more about your off‑site radio options, check out our secure communications equipment guide.