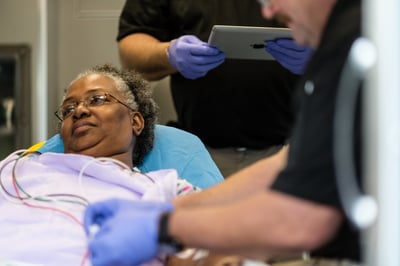 In light of the coronavirus pandemic, healthcare facilities of all types and sizes have begun revisiting emergency preparedness plans. Thankfully, hospital management does not need to reinvent the wheel. The Centers for Disease Control and Prevention (CDC) offers clear guidance on emergency preparedness, including helpful resources for each type of healthcare facility's contingency plans in the face of public health emergencies.
The Federal Emergency Management Agency (FEMA) separates emergency management into four specific phases:
Mitigation (such as buying insurance policies or constructing appropriate barriers for facilities in floodplains)

Preparedness (such as developing emergency response plans and providing relevant staff training)

Response (any actions directly responding to the unfolding emergency)

Recovery (such as rebuilding efforts or emergency preparedness plan adjustments to be better equipped in the face of a repeat incident)
Below, we look at the basic information you need to strengthen the third, crucial phase: your hospital's emergency preparedness plan.
What emergencies could occur?
According to independent healthcare nonprofit ECRI, "Between 2007 and September 2018, [FEMA] declared an emergency in the United States 1,451 times...The correct question to ask is not whether, but when, an emergency will occur. Then ask whether the organization will be ready."
While some emergencies take place at the national or even international level, many large‑scale disasters are limited to a specific city or region. Either way, any multi‑location healthcare institution should have a preparedness plan that accounts for the possibility of communication lapses between clinics or offices.
The following list of emergencies is not comprehensive, but you can use it to begin assessing the depth and breadth of your hospital's emergency preparedness plan.
Potential large‑scale emergencies in the hospital setting
Chemical spills

Widespread power outages

Natural disasters (tornadoes, hurricanes, severe thunderstorms, floods, etc.)

An influx of contaminated patients from mass chemical incidents outside the facility

Reaching maximum capacity during a pandemic or other health crisis

Wildfires

Active shooter or terrorism scenarios
How can you make sure your staff is prepared?
Hospital management will need to craft a detailed emergency preparedness plan that can be applied to any of the above scenarios. The U.S. Department of Health & Human Services, FEMA, and the CDC offer helpful resources to use while developing your hospital's plan.
Unfortunately, the most well‑written plan in the world is ineffective when only hospital management knows how to implement it. If you feel that your staff lack the proper training to deploy assets, automatically jump into emergency protocols, or communicate effectively with the broader community, start bridging the gap by implementing the following best practices.
Emergency Preparedness Best Practices
Practice, practice, practice.

Requiring hospital staff to read through emergency protocols rather than practice them

in action

saves time, not lives. Reduce risks and boost preparedness by running routine emergency drills. Take it a step further by training all department managers to properly access, deploy, and use

emergency assets such as communication systems, security features, and network surveillance cameras

.




Streamline team communications now and every day.

It's not uncommon for hospital staff to communicate on their personal devices. Unfortunately, the quickest, easiest communications are not always the best or most secure. Supply your staff with

two‑way radios

, then encourage them to use them for standard communications. This means that when the power goes out, critical communications don't stop. When the phone lines and internet connections go down, radios won't.




Determine how long your hospital can independently operate during a catastrophe.

This emergency preparedness best practice should be baked into your written plan

and

your training meetings. How long can medical practitioners sustain communications without needing to charge their two-way radios? How easily can hospital staff unleash a chain of events that brings in outside resources when necessary? Communication within the hospital, across all of the organization's locations, and then out to the broader community are all critical in the event of a widespread outage or disaster.




To learn more about strengthening your secure communications in the event of an emergency, check out our secure communications equipment guide.