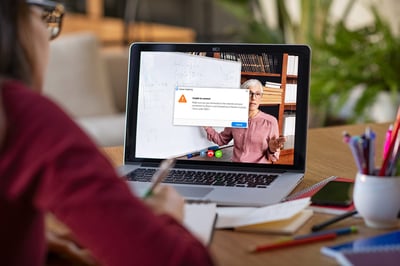 When schools closed their doors to slow the spread of COVID‑19 in March 2020, many teachers and students found themselves scrambling to navigate new online learning platforms, video conferencing calls, and a sudden absence of face‑to‑face interactions. Standard classroom challenges were quickly compounded by technical difficulties, including.
Unstable internet connections
Inadequate capacity on the school virtual private network (VPN)
Cybersecurity threats
Long call wait times for campus IT support
While employees learned to adapt and adjust expectations as needed, essential workers shouldn't need to compromise to accomplish their daily work. Now, months after the first mass pivot to e‑learning, schools and other organizations have had time to be more strategic about the approach to remote work and remote learning. For some companies, campuses, and organizations, there's been a shift toward remote IT partners.
Below, we consider how using a remote IT partner could help in challenging scenarios.
Situation: Your network is down
Imagine that a teacher is mid‑lecture when suddenly the video feed of students' faces goes fuzzy, then freezes. After refreshing the application several times, the educator realizes the entire network has gone down. No one can get online, and there's no way to communicate to students that help is on the way.
Suppose the school corporation has a remote IT partner. In that case, the teacher can call the helpline instead of waiting until the in‑house IT technician gets off the phone with the surge of other teachers having the same issue. Remote IT service technicians can enter the school's network and equipment from afar so that the teacher and students can get back to the curriculum in record time.
Situation: Your VPN has reached capacity
When the number of people using an organization's VPN balloons, it is possible to strain the network's capacity. Imagine a staff member logging in to complete a critical remote work task, only to be denied access. What happens next?
Like the situation above, the staff member could bypass the in‑house IT team with yet another task by tapping into a remote IT partner's helpline. Remote IT partners can help with everything from desktop support to VPN issues to protection against accidentally downloaded viruses.
Situation: An employee accidentally falls for a phishing scheme
According to the Federal Trade Commission, phishing is "a type of online scam that targets consumers by sending them an email that appears to be from a well‑known source—an internet service provider, a bank, or a mortgage company, for example. It asks the consumer to provide personal identifying information." The scammer then uses the recipient's private information to log into their bank accounts, open new accounts, or unlawfully make money somehow.
If a phishing email is sent to an entire staff, there's the possibility that more than one of your employees will fall for it. Remote IT organizations are well‑equipped to handle cybersecurity risks on an individual level as well as system‑wide.
Remote IT and the Future of Remote Work
As more and more employees shift to remote work, access to a team of IT professionals is critical to efficiency and effectiveness. From remote monitoring and management to remote IT solutions, services performed off‑site—anytime, anywhere—can help teachers, students, employees, and administrators stay effective even in challenging situations.