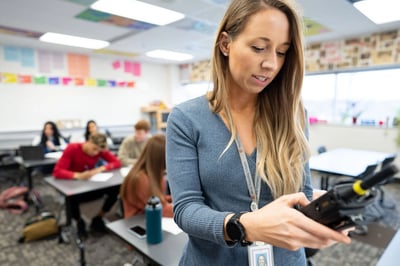 School security is always top of mind for district leaders and staff — and challenges are compounded when the campus is spread across multiple buildings spanning miles.
How do administrators, security staff, teachers, and other employees stay in touch on a day‑to‑day basis or in case of an emergency?
In two Illinois school districts — Barrington 200 and District 214, the second‑largest school district in the state — leaders, and staff have overcome communications challenges by utilizing a seamless communications infrastructure that provides safety and security — allowing them to focus on the success of students.
These are two examples of how to build a successful campus communications system.
Barrington Community Unit School District 220: Increased Connection
Barrington Community Unit School District 220, once a one‑room schoolhouse, now covers 72 square miles in Chicago's northwest suburbs. It educates almost 9,000 students from pre‑kindergarten through high school. It includes one early childhood center, eight elementary schools, two middle school campuses, and one high school. Three years ago, district officials came to Chicago Communications to discuss their need for increased school security. The result is enhanced, seamless communication among all the buildings, vehicles, and personnel.
The Problems
The district faced problems with its communication system, including:
Broken radios
Lack of communication between schools
Limited ability to communicate with confidentiality


The Solutions
Chicago Communications worked with the building and grounds manager to design a system for the district.
Technicians installed the MotoTrbo trunked system, which connected all schools and buildings on the same two‑way radio system.


Evolving System
In a second phase, being implemented this summer, the district is looking to address the need for multiple technician visits due to staff turnover. Now the district is adding WiFi to all the radios, which means changes can be made without a technician on site.
In the future, the schools are planning to increase and upgrade the security camera system to one that can notify public safety directly and increase controls on the many school doors (more on that below).
Township High School District 214: A Unified Approach
"When it comes to the safety of our students, we could not have the reliability of our communications system in question. We needed equipment in place that could be counted on during any event, at any time of day. — Ted Birren, Director of Operations, District 214
Whether it's in classrooms in one of the seven campus buildings, on the football field, in the gymnasium, or on the transportation fleet, leaders and staff at High School District 214 are charged with keeping more than 12,000 students safe so they can learn and grow.
In this case, school security also means staying connected across 62 square miles and ensuring security beyond school hours for after‑school activities.
Like District 220, District 214 sought help from Chicago Communications to create an integrated and seamless communications infrastructure that allowed them to focus on their mission.
The Problems
District 214's communications system was outdated, and radio fleet purchasing decisions were left up to individual schools. This compounded the challenges of staying connected across distance and platforms:
Schools were using different radio systems, with different vendors and licensing structures.
The radios were aging, analog models with challenges in terms of reliability, voice clarity, and coverage.
FCC regulations changed, to require a shift to narrowband frequencies, and the district needed to transition to all‑digital technology.
The district's 62‑mile coverage area was causing delays, and personnel were using a combination of devices — smartphones, laptops, and tablets — to communicate.
During a critical situation or emergency, if a school's radio was not in range, the staff would use individual cell phones.
The district's growing fleet of vehicles needed to be better connected.


The Solutions
The district consulted Chicago Communications and Motorola Solutions Team Communications, and came up with the following plan:
The district saved money by instituting a district‑wide system for making purchasing decisions. By using one vendor, all radio programming and licenses are now centrally managed across the district, removing the responsibility from the individual schools.
They deployed MOTOTRBO XPR two‑way radios and repeaters across campus for administration and principals, security, building and ground maintenance, athletics, and technology staff.
To keep the fleet connected, they adopted the neoConneX Fleet Manager, a plug‑and‑play GPS fleet‑tracking solution. Now they can track locations of all school vehicles, activity vans, buses, and driver's ed cars.
What Do These Solutions Have in Common?
A comprehensive platform that includes digital two‑way radios. Even if some staff is still relying on cell phones, a system like Motorola's WAVE Work Group Communications suite allows radios to seamlessly communicate with smartphones, laptops, desktops, tablets, and even landlines across distances.

A product designed specifically for schools, such as SchoolSAFE Communications that connects key personnel by interfacing with public safety radio systems. This means that when someone at school calls for help, it triggers a 911 call to alert local authorities.

Good communication between administrators, school safety personnel, and a trusted vendor.
Minding the Entrances and Exits
Because students and staff are in and out of buildings both during school hours and after hours, one significant step schools can take to increase school safety is investing in technology that can help monitor exits and entrances.
Some high schools have more than 100 doors, so using badges that swipe authorized people in is a costly option.
Some schools are choosing to install camera surveillance systems like Avigilon, which can monitor and detect movement from all angles, and send alerts within seconds to team members. In case of a school shooting or other life‑threatening emergency, seconds matter, and getting word to the right people can save lives.
Having top‑notch security systems in place also creates peace of mind for the people who work and learn in the buildings.
No matter what the size of the campus or school, The goal is to create a home away from home for students — a place of belonging and safety.