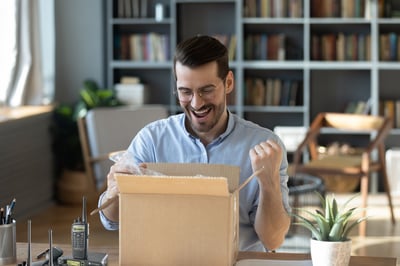 If you're planning a purchase of two‑way radio packages, you may wonder what is included. Is it just the radios? Will you need to purchase batteries, chargers, and other items separately?
Whether you're doing comparison shopping or worried that you might be misled by the prices being advertised by a vendor, this blog will help you understand what's provided when you purchase radios from a qualified two-way radio service provider.
Most two‑way radio service providers do provide packages that include everything you need to start communicating with two‑way radios.
What Is Included in a Two‑Way Radio Package?
A two‑way radio package purchased from a qualified two-way radio service provider will typically include the following:
Two‑way radios (see the description below to understand the different types of radios)

A single‑unit battery charger for each radio

A belt clip for attaching the radios, one for each radio

A standard battery for each radio

An antenna for each radio

Some type of maintenance or essential repair coverage.
When you receive a price quote from a two‑way radio service provider, it should list everything that's included in the package, so if you have questions about what's included, make sure to check your quote.
Why Pay for Maintenance?
The two‑way radio service provider may offer a one or two‑year warranty, or a maintenance program, depending on the type of radio. A maintenance program is an important way to protect your investment in the technology. This video explains why.
What Types of Radios Are in the Packages?
There are five main two‑way radios systems available on the market. Talking to a two‑way radio service provider can help you determine which of these might be right for your needs:
Conventional, the most basic system. It's best for a single location with a small number of users, from one to 150.

IP Site Connect is a great option for small to midsize businesses. IP Site Connect accommodates the same number of people as a conventional system but uses repeaters and your existing data network to connect multiple locations that are miles apart.

Capacity Plus is a scalable, single-site trunking solution designed for 100 users or more that enables up to 1,200 MOTOTRBO radio users to share both voice and data communication on the same system. Employees can use both voice and data communication, all on the same system and without having to add new frequencies.

Capacity Max is for the largest enterprise customers, with the widest coverage and capacity for thousands of users who may be thousands of miles apart.
Reading Your Quote: Know What You're Getting
You shouldn't have to wonder what you're getting when you make a two-way radio purchase. When you're looking to upgrade your communications system, a sales representative of a qualified two‑way radio service provider should provide a detailed quote listing exactly what comes in the package.
If you have questions about why something is or isn't included in the package, they should answer all of your questions not just verbally, but in writing. Your quote should have everything you need to share information across your agency or business and make a purchasing decision.
Two Way Radio 'Intangibles' Included In Your Package
When you purchase two‑way radios, you get more than what you see in the package. Two-way radios are a cost‑effective method of communication, providing instant, rugged, and secure communication. Two‑way radio technology has been growing by leaps and bounds.
Today's two‑way radios use digital mobile technology, or DMR, to digitize voice communications. That process allows multiple conversations to occur on the same radio frequency. This vastly improves the quality of the audio, increasing clarity.
Two‑way radios are built for safety. Leaders in the public safety sector, hospitality, manufacturing, and schools are choosing them to avoid relying on smartphone technology for essential communications.
A two‑way radio isn't just about the equipment; it's about the whole solution. Choosing a two‑way radio provider is a big decision— and an investment in the future of your team. You'll want to look for more than just an online bargain.
Before making any decision, it's important to talk to qualified two‑way radio service providers to ensure that your package includes everything to get started — and that you are choosing the best solution for your industry's communication needs.