When we talk about cell phone replacements, we don't mean replacing the cell phone whose screen just cracked, whose battery mysteriously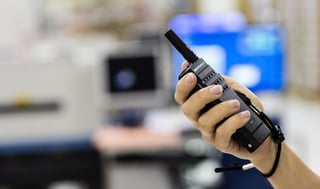 stopped charging or whose model was recalled because it kept catching fire. We mean cell phone replacements that will allow your agency to stop relying on cell phones for your vital communications once and for all.
For consumers, cell phones are king, and for good reason. They offer the perfect mix of features and functionality to meet people's personal needs. But consumer-grade cell phones for agencies? Forget it.
Here's a rundown of 3 replacements your agency needs to embrace.
Two-Way Radios
The main reasons why two-way radios are better than cell phones fall under 5 general categories:
Reliability and durability: Rugged two-way radios are built to perform in all kinds of environments, no matter how hazardous. Radios have longer battery life and better coverage than cell phones.
Clarity of communications: Even in the noisiest workplaces and situations, conversations still need to happen, and radios have the technology to ensure words come across and background noise does not.
Low cost of ownership: Radios, unlike cell phones, don't have monthly service fees associated with them.
Worker safety systems: Two-way radios have a number of applications and features, such as man down and lone worker, specifically designed to monitor and ensure worker safety.
Push-to-Talk: Two-way radios deliver on all of the above, plus they allow workers to instantly communicate at the touch of a button, even if they're wearing heavy gloves, are using a headset or have radios strapped to their bodies.
Mobile Radios
For mobile workers, the choice of radios over cell phones is even easier given that the Department of Transportation regulations that ban cell phone use for commercial drivers don't apply to radios. That means drivers can use mobile radios to communicate without having to pull over or stop their vehicles to talk.
Mobile radios also offer the same benefits as two-way radios.
Motorola WAVE Group Communications
Motorola WAVE Group Communications is great solution for bridging the gap between workers who use two-way radios and those who don't. WAVE's push-to-talk (PTT) platform allows users to communicate between smartphones, radios, computers or landlines.
WAVE comes in several configurations, including:
WAVE 3000: Connects Motorola MotoTRBO radio systems to mobile broadband. Radio PTT is delivered via an application that connects through a WAVE 3000 server. WAVE 3000 can also be deployed for broadband- only PTT. Best for: small to medium organizations.
WAVE 5000: In addition to the mobile applications for smart devices, WAVE 5000 has PTT applications for PCs, including everything from dispatcher capabilities to a less complex browser-based solution. Best for: enterprises.
WAVE Connections: Doesn't require an upfront investment in WAVE software and places everything in the cloud. Connections works with all providers for a monthly subscription. Companies can either keep their current service or chose a provider with the voice and data plan that fits their needs. Best for: any size, particularly small.
To learn more about creating and maintaining a successful two-way radios system, contact Chicago Communications to set up a free consultation.