Chicago Communications is proud to be a unified workgroup communications provider, and we're so sure your team is going to love the new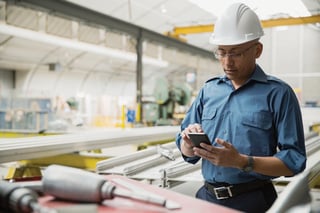 Wave OnCloud solution, we're offering a free 30 day trial.
Wave OnCloud instantly breaks down communications barriers across frontline and field workers, across distance and, most importantly, across devices. Your team can say goodbye to juggling multiple radios, phones and tablets and hello to one easy-to-use, push-to-talk application for everything.
Let's take a quick look at Wave OnCloud's benefits as well as how to sign up for your free 30 day trial.
Push-to-Talk for All
With truly unified workgroup communications, the possibilities are endless with push-to-talk enabled across any number of devices, facilities and networks.
Users on phones, tablets and computers can instantly connect with each other and with radio devices. All with the capability for a common address book, talk groups and aliases.
Interoperability with Existing MOTOTRBO Networks
Not only is the application interoperable with existing MOTOTRBO networks, it extends the geographic reach of MOTOTRBO Capacity Plus, Linked Capacity Plus and Capacity Max systems.
Wave OnCloud works with Android, iOS and web browsers.
Broadband-Only Option for Non-Radio Users
Not a business that's using radios? Not a problem. Your team can connect to the WAVE OnCloud service on mobile phones, tablets and laptops from anywhere that has public broadband service.
Cost Savings
Setup is easy and doesn't require any large upfront capital expenses. You can use the mobile phones and service provider you're already using. Plus you can add or remove users as you need to.
Subscription-based pricing means you can count on no billing surprises.
Free 30 Day Trial
Curious? We thought you would be. We're offering a free 30 day trial that includes:
10 users - 5 talk groups
WAVE Mobile (iOS/Android)
WAVE to WAVE text messaging
Web communicator
User location
Full encryption
Get Started Today
To start your free trial, contact our knowledgeable staff today.