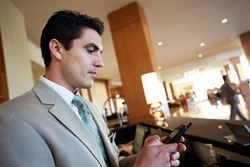 With the summer underway, the hospitality industry is booming. School is out of session and vacation time is finally being put to use which is great news for resorts and restaurants. But with this spike in business comes an increase in demand and expectations on the staff. Without the proper communication solutions, slow service could easily turn someone's vacation or event from something fun and memorable to disappointing and frustrating.
When your business' success depends on how well you are able to provide a service, you cannot afford to cut corners on communication. Use this guide to learn how these new or updated communication solutions can help your guest have an enjoyable experience.
Two-Way Radios
Whether you work in a restaurant or hotel setting, two-way radios are a go-to communication solution for the hospitality business.
The long range that these radios provide make them perfect for sharing information across large outdoor resorts.

The durability of the headsets is beneficial to those working in bars and dining environments, as the sturdy plastic outer shells can be cleaned in an instant.

The extended lifespan of the system can provide hotel staff with years of direct and immediate communication to update the various staffs: housekeeping, maintenance, and managers alike of the room conditions throughout the building.
Wireless Networks
Although guests may be on vacation, their friends, families and coworkers may not understand that. Sometimes, work-related business will need to be tended to or an emergency may arise, so the ability to remain connected is crucial. Providing guest with the option to connect to a safe and reliable network will be a crowd pleaser. Guests are expecting hotel wireless to do more, faster.
Bi-Directional Amplifiers
Incorporating these communication solutions will require an additional piece of equipment to be most effective: a bi-directional amplifier (BDA). BDAs retransmit signals so that they are stronger for all wireless devices. A BDA can:
Expand the reception of two-way radios for staff, making seamless communication effortless

Boost cellular signals for guest across various providers' networks, granting guest another way to remain connected

Enforce wireless networks strength, helping your business remain productive and efficient
Don't become overwhelmed with the task of managing more guest during the summer months. Improving your internal communication can help you improve customer service and help you better handle the influx in visitors so that you can reap the benefits of summer vacation travels. If you are considering implementing any of the communication solutions listed above, contact Chicago Communications today!