In the hospitality business, delivering a flawless guest experience requires seamless communications, from before guests arrive, to the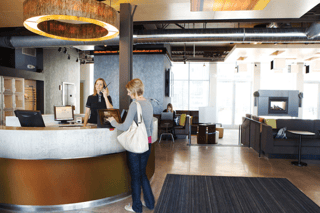 duration of their stays, to after they check out.
Two-way radios have long been the backbone of hotel and resort communications and hospitality management, and their features and functionality are catching up to meet the demands of increasingly more connected consumers and guests.
Is your current radio solution ready for the future, or is it time to upgrade? Start to assess with this two-way radio checklist for the hospitality business.
High-tech Capabilities, Low-Key Profile
For guest-facing staff members who use two-way radios, such as security personnel and the front desk, having discreet devices that fit with their uniforms is ideal.
For guest-facing staff, look for devices that are:
Built for the professional market

Non-bulky

Lightweight for staff who spend hours on their feet
Rugged and Reliable
On the other hand, some radio-carrying staff require less discretion and more durability from their devices.
For housekeeping, engineering and valet services staff, look for:
Rugged design

More heft

Ability to withstand harsh conditions
Enhanced Data Applications
While crystal clear audio is a must-have radio feature for every staff member, not every request or situation requires a voice conversation. Data applications allow staff to communicate – and respond – to each other quickly.
Look for data applications such as:
Work order ticket management for rapid handling of maintenance requests

GPS location-tracking to enable efficient staff deployment during incidents

Text messaging

Audio that adjusts to the user's environment
Ready for the Future? Check
From virtual reality tours to robot reception desk staff, hospitality technology is advancing quickly. Through it all, two-way radios for the hospitality business are holding their own while increasing productivity, enhancing security and contributing to the guest experience.
Need inspiration as you work to improve your hospitality infrastructure? Check out these 30 inspirational quotes for hospitality management!
To meet your needs for communications solutions in the hospitality industry, contact Chicago Communications today!