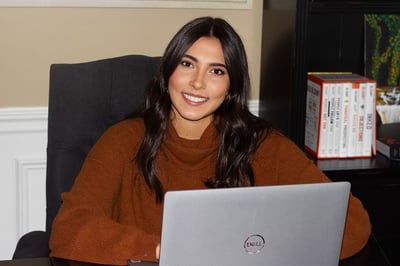 Anna Duvall has been a member of the Chicago Communications team since late 2020. She and Gabrielle Glashagel are two of the newest sales representatives at the company. Currently a senior at DePaul University, Anna is excited to use her education to pursue a career in sales.
"I will be graduating this year with a bachelor's degree in marketing with a concentration in sales," she says. "I decided to pursue sales because I love the idea of being able to help someone solve an issue they are facing. What I love about Chicago Communications is the way they approach sales. It's not about selling to sell — it's about helping to solve your issue."
Solving customer issues
"My favorite part of the job has to be the people I work with, both the customers I meet and everyone at Chicomm," Anna says.
As a sales representatives, she spends her day helping customers work through problems such as:
Identifying what drives their communication problems
Pinpointing security concerns
Finding solutions to both security weaknesses and communication barriers
She is particularly proud of how ChiComm's radios and video surveillance systems boost public safety — even during a pandemic. Communications solutions must be secure and efficient to keep up with the demands of public safety officers' day‑to‑day work.
Products like two‑way radios, distributed antenna systems, and scalable 911 dispatch centers are critical for police forces and fire departments to "really help keep everyone safe," she says.
A typical workday
Like sales team member Gabrielle Glashagel, Anna began working at ChiComm in the middle of a pandemic. Learning the ropes is tough from afar, but she has taken on more and more responsibilities despite Illinois' stay‑at‑home orders.
"Right now, my day consists of lots of cold calling and trying to set meetings," she says. Recently, she's also joined Government Account Executive Todd Niccum in some of his meetings and calls. By observing him match products and solutions to specific customer needs, she has developed a deeper understanding of the variety of communications products and accessories on the market.
Balancing work and life
Work/life balance is a challenge when working from home. Adding a new job to the mix could have felt impossible to some university students.
"Starting a full‑time job as a student can be a bit stressful at times, but everyone from Chicago communications has been so helpful and made it so enjoyable," Anna says.
Of course, relaxing outside of work helps. When she's not at her desk, Anna loves spending time with friends and family. She's also fond of listening to podcasts while she takes her dog for a walk.
As for three things she can't live without? "My family, my dog, and I would be lying if I didn't say coffee," she says.