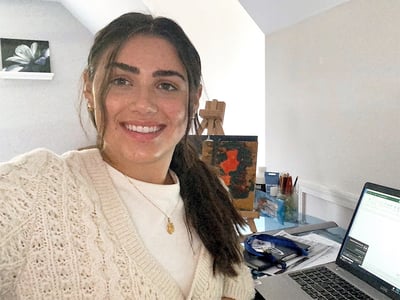 Gabrielle Glashagel has been a member of the Chicago Communications team since October 2020. She is the newest sales representative, but that doesn't mean she's new to the industry. She grew up in the business. Her mother, Cindy, is ChiComm's principal/owner. Gabrielle also interned in the marketing department in 2018.
"I used to come into the office with my mom a lot when I was in high school to help out in the rental department, which taught me a lot about the company and the products we sell and rent out," she says.
Returning to ChiComm
Gabrielle is a senior at DePaul University. She spent the last few years studying Art, Media & Design (with a Spanish language minor). But when the COVID‑19 pandemic shut down in‑person classes and shifted her life online, Gabrielle decided to get a head start on her career by juggling classes and a job. She spends her days juggling coursework and sales calls to businesses across Chicagoland.
"Being new to sales can be intimidating at times, but I am thankful to work with a team that is super helpful and always gives great feedback," she says.
Streamlining communications
At its core, Gabrielle's role at the company is straightforward: "Reach out to as many people as possible to share information about our company and what we do," she says. Her goal is to spread the word about two‑way radios, set up meetings with prospects, and ultimately help meet businesses' communications needs with ChiComm's vast array of products and services.
She says, "I think a lot of companies tend to overlook two‑way radio communications systems because of the accessibility of cell phones." Even as a team member who grew up in the age of smartphones and other personal devices, Gabrielle believes in the durability and safety of two‑way radio systems.
"[Radios] can streamline communication within a company by not only being safer and more secure but also being cost‑effective," she explains.
All in a day's work
Beginning a career in the middle of a pandemic is not for the faint of heart. It requires virtual job training, confidence, and an independent spirit. Fortunately, Gabrielle's years of immersion in the family business have given her a solid foundation of communications know‑how and Motorola product knowledge.
Her work‑from‑home days typically involve a mix of phone calls, internet research, and continuing education.
"I put together lists of companies to call and send out emails sharing even more information about the company and what we do," she says. "I will do some Motorola training modules that teach me information about two‑way radio solutions and all of the different products we sell."
Life outside of work
When she's not making sales calls or working on class assignments, Gabrielle enjoys a variety of creative pursuits. She says she often paints, draws, or immerses herself in studio and digital art.
"I also am very obsessed with my dog," she says. She adds that spending time with her pup gives her a good excuse to head outside for some fresh air even during the winter months.
From school to work, creative hobbies to dog walking, Gabrielle stays busy. When asked what three things she can't live without, the choices are clear: "My family, my dog, and coffee," she says.