While the job of any bi-directional amplifier (BDA) is to boost a signal, there are significant differences between cellular BDAs for enhanced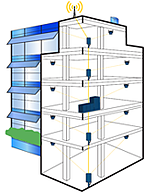 mobile phone use vs. the public safety BDAs for first responders' two-way radios, and the two aren't interchangeable.
There are comprehensive BDA solutions available for both challenges, and the right BDA system properly deployed can address everything from reducing dropped calls for hotel guests to ensuring seamless mission critical communications for firefighters and police during emergencies.
Let's take a look at some of the key differences between a cellular and a public safety bi directional amplifier.
Cellular Bi-Directional Amplifier

Cell phone "dead zones," dropped calls and overall poor reception are all issues that can be addressed by a cellular BDA. The devices locate a wireless signal, amplify it, and then rebroadcast it throughout a building.
Almost every kind of building you can imagine – from huge hospital complexes to sprawling stadiums – is using BDAs to enhance communication, increase productivity and add value to tenants and visitors, regardless of their cell phone carrier.
Public Safety Bi-Directional Amplifier
Public safety BDAs also provide a signal boost, this time for the two-way radios that are a lifeline for police and firefighters. The BDAs extend the range of the radios in buildings and facilities where reception is poor, and they're built to withstand tough conditions such as high heat or a lack of electricity.
BDAs for public safety users must be equipped to transmit across public safety-only bands and frequencies.
The push to provide reliable radio coverage for first responders is gradually gaining steam around the world, and since 2009, the International Code Council and the National Fire Protection Association have added first responder radio coverage requirements to their collection of fire codes. The codes mandate certain minimum levels of performance, reliability and quality. Many states and municipalities now also require public safety BDAs in any new or renovated buildings.
Just recently, Anne Arundel County in Maryland adopted standards requiring that, "In all new and existing buildings, minimum radio signal strength for emergency responder communications shall be provided and maintained. Where needed, two-way radio communication enhancement systems shall be installed."
The Federal Communications Commission is tasked with regulating what it refers to as "signal boosters" to ensure proper consent and registration is completed, and to monitor potentially harmful interference.
To meet your needs for bi directional amplifier products, installation, and service, contact Chicago Communications today!