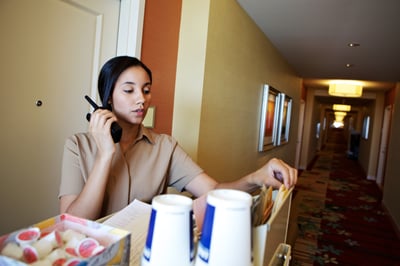 What are the best two-way radios for hospitality?
Selecting the right radio in this business needs to be informed by specific job responsibilities: Sleek handhelds are often best for front desk staff, whereas ruggedized products are needed for facilities management. Security staff often need discreet devices to do their job best.
For each staff role, there are radios, accessories and applications available that offer a full range of features and functionality to keep operations running smoothly and guests happy.
With guest satisfaction in mind, below are the specific two-way radio models that are best for three major staff roles in hospitality. Experienced two-way radio service providers can also provide helpful specifications and advice when making a selection.
Reception and Guest Relations
Staff at the reception desk are often the liaisons between guests and other departments, from engineering to housekeeping, so it's crucial that their devices are lightweight yet rugged. The best radios for front desk staff are the MOTOTRBO SL300 model.
The SL300 is less than an inch thick, splash proof and dust proof, making it both ultra portable and durable. It has both analog and digital capability, so you can transition to the latest technology at the pace that makes sense for your property.
Facilities Management
Facilities and maintenance staff have the widest range of anyone at your property, moving between guest rooms, common areas, the laundry room, engineering and more, and they need radios that are just as versatile.
The best two way radios for facilities staff are in the MOTOTRBO SL 7000e Series family, which like the SL300 are known for delivering durability in a small profile.
Facilities-friendly features include:
Indoor location tracking

Integrated Wi-Fi

Extended range

Upgraded audio
Security Personnel
Discretion is the name of the game for hospitality security staff, who are called upon to communicate frequently but unobtrusively.
Among the best two-way radios for security staff are the CP200d, which offer the features of a MOTOTRBO radio, but with a CP200 price. With full compatibility with a range of radios, they're designed with flexibility to grow as your business does.
Uniquely the Best
When searching for the best two-way radios for hospitality, remember to shop for each department's unique needs so you can tailor a solution that works for everyone. Beyond individual roles, you can use a hospitality industry checklist to make sure you've thought of everything required to use two way radios in your industry. Streamlined communications for staff will translate into seamless experiences for your guests.