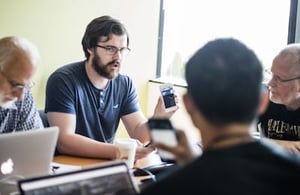 Companies with great internal communications didn't get to where they are by accident – they have worked hard to break down silos, enable collaboration and have the right tools at the ready.
Across industries, well-connected workforces are safer, more productive and more efficient, and there is a single solution that makes it happen: two-way radios.
What four things do companies with great internal communications already know? It starts and ends with radios.
Safety Comes First
Because two-way radios are designed and built with business and industry in mind, there are a number of safety features available intended to protect all kinds of workers. When it comes to safety, cell phones just can't stack up.
Companies with great internal communications understand that keeping in touch isn't just about convenience and collaboration, it's about keeping workers safe.
Worker safety features for two-way radios include Lone Worker, Man Down and the Emergency or "Panic Button." Man Down is a premium feature that is now automatically included with Motorola's Essential Services program for select MOTOTRBO radios.
Streamlining Communications is Key
Landlines, cell phones, desktops, laptops, tablets, two-way radios, mobile radios and whatever the next new gadget is that we haven't yet dreamed up. With all of the communications options, connecting devices across departments is an increasingly complex challenge.
Fortunately, two-way radios are backed by applications, features and functionality that make for a flexible and simple solution.
To bridge the gap to non-radio users, Motorola's WAVE Work Group Communications is a platform that enables push-to-talk (PTT) for any device that communicates with radios, including cell phones, desktop computers, landlines, laptops and tablets.
Push-to-talk allows workers across departments – and around the world – to instantly connect with the touch of a button. It's just one of the benefits radios have over smartphones, regardless of how smart they are. And when a voice conversation isn't possible, digital two way radios are also equipped for text and data.
Radios also allow for instant one-to-many communications without the hassle of a conference call or the need to dial multiple numbers on a cell phone to create a group call.
Portability Pays
Across manufacturing, healthcare, hospitality and transportation, workers have a vast variety of roles that have them sitting or standing at desks, driving vehicles, walking rounds, or some combination of all of those.
There's an appropriate two-way radio, or mobile radio, for every responsibility, and accessories allow for even more customization. From lightweight devices with discreet earpieces for front desk and security workers to ruggedized radios for the factory floor, radios go wherever the work takes them.
Unlike cell phones, mobile radios are approved by the U.S. Department of Transportation for use while driving, meaning your remote workers can keep in touch with dispatch and other staff while they're out on the road.
Minding the Bottom Line is a Must
Once customers have invested in expensive consumer smartphones, there are recurring monthly charges to carriers to pay. Once companies invest in two-way radios, there are no monthly fees, making the total cost of ownership much lower.
Motorola' Essential Services warranty program also lowers the total cost by including 16 premium features and more than doubling the warranty time.
Radios also save money with longer battery life and better durability than smartphones.
Now You're In the Know
Dynamic workforces need a way to coordinate and collaborate that's fast, efficient and cost-effective. More teams are discovering what companies with great internal communications already know: two way radios are an all-in-one solution that enables interdepartmental conversations and keeps people safe.